It's been another record breaking year for the Digger Blog and it is all down to you, the fabulous readers, the many contributors and industry professionals from all over the world, many of whom I have been lucky enough to meet in person or at least get to know through our Facebook page and on Twitter.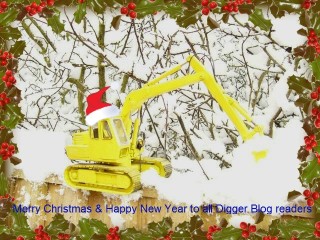 I would like to wish each and every one of you a very Merry Christmas and a Happy New Year, and I look forward to a lot more inter-action with readers, manufacturers, dealers and associated plant companies in 2012. There are lots of exciting things in the pipeline, which I know you are going to enjoy seeing here.

I hope you all get what you have wished for and deserve this Christmas, and who knows you just might be a lucky recipient of one of Kent Vintage Digger Models superb die cast models, just like the Hymac 580C in the photo!