This large Komatsu excavator has come to grief along the side of a river bank. It is one of a series of photos I have in my collection of this incident, which concludes with at least 3 large dozers employed to try and extract the stricken machine!
This Caterpillar 330B has got into trouble somewhere in Dubai, as its operator looks on at his handy work.
This John Deere machine looks well and truly bogged and it would certainly take a fair bit of digging around to stand any chance of getting it out.
Down under now to Australia where this Hitachi EX200 Landy has come to grief on its cab side. When a machine is in on its side like this it is incredibly difficult to get it out unassisted as the option to slew the upper-structure is virtually impossible.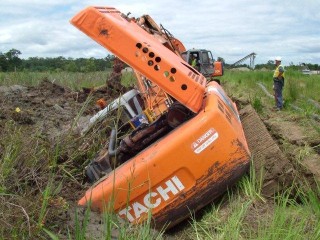 Still in Australia, the operator of this Daewoo 340LCV is in trouble as the bucket is completely submerged in the mud, this often causes problems as the suction takes hold of the bucket as the operator tries to pull it out; this in turn pulls the base machine further down into the mire!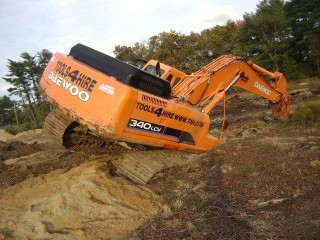 This Turkish built Hidromek HMK220LC is marooned in severe winter conditions; this photo is from another series in my collection which eventually show the machine back on terra firma.
It's always amazing to see photos of bogged machines, so if you have any to share with us and the fellow readers we would love to see them here on the Digger Blog.