The new range of Cat mini excavators are causing a bit of a buzz in the industry at the moment having been officially launched at the Samoter exhibition in Italy earlier this month.
3 new models were on show including the 300.9D which with an operating weight of 985kg makes the machine Caterpillars smallest product to date. Alongside the 300.9D were examples of the new 301.4C and the 302.7D models.
The 300.9D is seen here at the first event of the current Caterpillar EU Roadshow in Langenthal, Switzerland, which was hosted by Swiss dealer Avesco.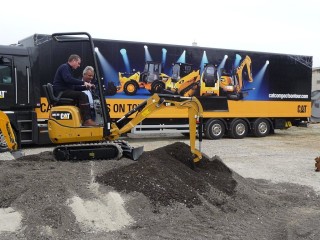 The Cat Compacts on Tour European Roadshow which feature's mini excavators and skid steer loaders is currently taking place in Germany, which is one of 11 different venues across Europe where the trucks will be visiting.
The Digger blog will be getting hands on with these new machines shortly so lookout for a full report in a future post.
Meanwhile in Dubai at the annual sales campus, the new B series articulated haulers and two of the latest models from the hydraulic excavator range were being demonstrated to an eager audience. This event is held purely for dealers from Africa, Middle East and CIS, and involves Cat product specialists from all machine divisions teaching dealers about the latest products.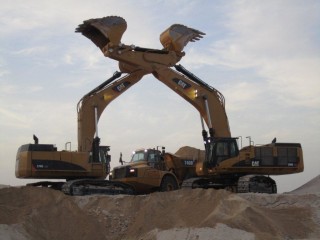 Our good friend Fleur Foster, from Caterpillar UK spent a whole day operating one of the new 740B trucks and was full of praise for the new machines. I hope to report on them when they are officially launched into the UK market later this year.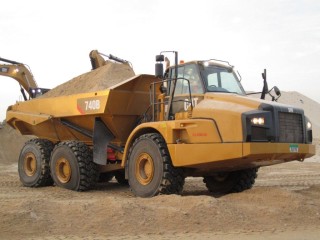 The trucks were being loaded by two of the latest D series hydraulic excavators the 374D one of which I first saw at last year's Bauma event and the 390D. The 374D is powered by a Cat C15 ACERT engine which develops 476hp; the machine has an operating weight of around 73695kg. Here is the 374D on display at last year's Bauma trade fair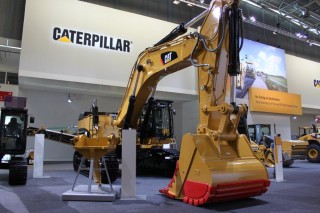 The Caterpillar 390DL was introduced last year as a direct replacement for the outgoing 385CL machine and includes greater hydraulic power, stronger structural components, added safety and improved serviceability. The machine is powered by a Cat C18 ACERT engine of some 523hp and has an operating weight of around 88180kg.
Lookout for further coverage of the Dubai event here on the Digger blog.