A1 Infrastructure and Building Ltd, are a family based civil engineering company based in Lincolnshire, and are very active in a whole host of civil engineering and groundwork's applications, from drainage to concrete works. They run a comprehensive fleet of plant ranging from mini excavators to large 360o excavators including a new Cat 308D CR (Compact Radius) which recently joined the fleet.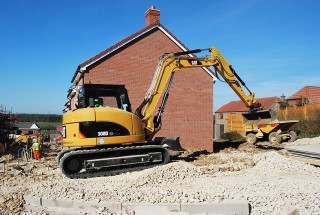 The new machine was supplied by Cat Compact dealer Britcom International, and the deal was organised by Britcom's plant sales executive, Michelle Tate. The team from A1 Infrastructure had recently visited the Caterpillar UK facility at Desford in Leicestershire, and had been given the opportunity to test drive the 8 ton class machine out on the extensive demonstration ground. During the demonstration and test drive period, the team noted some significant advantages in the performance of the machine when compared to their existing competitor's product.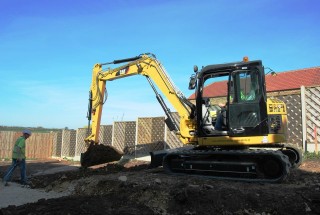 Following on from the successful test drive at the factory, a deal was put together with the old trade-in model, and an order for the new 308D CR was placed. A1 Infrastructure's Managing Director, Michael O'Boyle was very happy with the build quality of the machine and opted for the long stick version and additional hammer pipework, which gives them much greater flexibility on the jobsite.

A1's General Manager Kieran O'Boyle said "We have had this machine for just over a month now, and have been extremely pleased with its performance on site. We would recommend this machine to anyone looking for a machine of this specification". I can echo those sentiments from the stick time I have had on the 308D and E models that I have test driven during my Digger Blog visits to Desford over the past couple of years.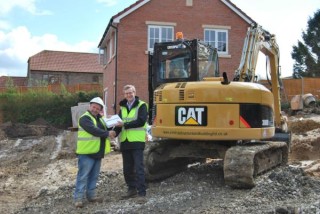 On the strength of the 308D deal, another example from Caterpillars compact range in the shape of a 1.5 ton class Cat 301.6 machine was recently taken on for a demonstration period, which was once again arranged by Britcom's sales executive Michelle Tate.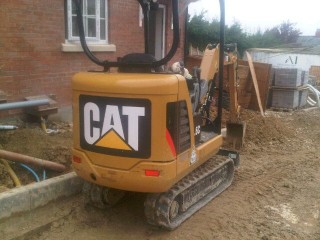 Following the Cat mini's successful demonstration period, the company were more than happy with the little machine's capabilities and it has now been purchased as an addition to the fleet.