The futuristic showroom will educate customers on the components and systems working beneath the exterior metal that together ensure the productivity customers expect from New Holland Construction. Also unique is the large product demonstration field, with specific areas to test different applications and machines. Visitors can even drive Iveco trucks on a 1200m (1400 ft) test track with 30° to 60° slopes.
The state-of-art facility includes a large service shop with the very latest in diagnostic equipment and tools. The shop is designed to complete the suggested maintenance quickly for customers to minimize their time and maximize machine life. In addition, the adjacent training center will provide specific courses and workshops for New Holland Construction dealership technicians, as well as for technician from the other brands represented.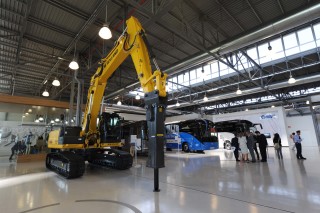 "Fiat Industrial Village provides a place where New Holland Construction customers can explore the excellance and industry capabilities as part of the Fiat Industrial family," said Jim McCullough, CEO and president of CNH Construction, whose brands include New Holland Construction. "This facility is the most recent example of our commitment to these brands and the values we share."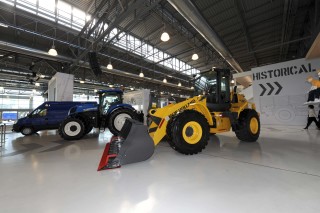 The newly opened centre covers an area of more than 74,000 m2 (800,000 ft2), 23,000 m2 (250,000 ft2) of which are covered, with an 8,000 m2 (86,000 ft2) space dedicated to vehicle exhibition. The location also includes an exposition of historical vehicles featuring technology advancements throughout the years, a retail store with branded merchandise and a gameroom.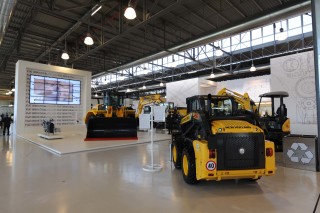 McCullough noted that visitors to Fiat Industrial Village will have opportunities to tour the nearby New Holland Construction plant in San Mauro and the adjacent FPT Industrial engine plant in Turin.