The new EC27C joins a Volvo L70E and a recently purchased L70F loading shovel at the company's recycling centre on the outskirts of Colnbrook village and a stone's throw from the M25. "We've run Volvo shovels for several years now with a good degree of performance and reliability so were happy with the Volvo pedigree," explained Workshop Manager Steve French. "We needed a compact excavator complete with a rotating selector grab to take charge of the initial separation of cardboard and plastics coming into the recycling centre prior to baling so opting for the Volvo brand was our obvious choice," he continued. "Utilising the machine in this way will boost the productivity in our baling operations and reduce the reliance on manual separation."
Joining a mixed fleet of equipment including the two existing Volvo loading shovels, the EC27C is powered by a Volvo 1.6 litre low emission Stage III engine coupled to a load sensing hydraulic system for optimum performance and fuel saving. Simultaneous control of slew and offset movements provides faster, more precise performance due to the right joystick control lever that features an electronically proportional roller. This allows the operator to accurately adjust hydraulic flow as needed.
All hydraulic functions are performed in total independence for more control and less delay when handling multiple tasks. An automatic two-speed travel system engages when operating in high speed mode, automatically shifting gear from high to low according to the travel load. Another feature for increased efficiency is the standard auto-idling system that lowers engine speed to idle if a control is not used for five seconds. The engine reverts to the pre-selected speed almost instantly when any control is moved. This system delivers lower fuel consumption, longer engine life and less environmental noise.

The EC27C features Volvo's industry-leading comfortable cab for less fatigue and more production. The ergonomically-designed cab offers greater leg and foot room, making it one of the most spacious in its category. The machine supplied to Lanz Group has been fitted with a Pro Dem hydraulically rotating selector grab taking care of the business end of the machine sorting and picking a variety of waste material predominantly consisting of cardboard and plastics.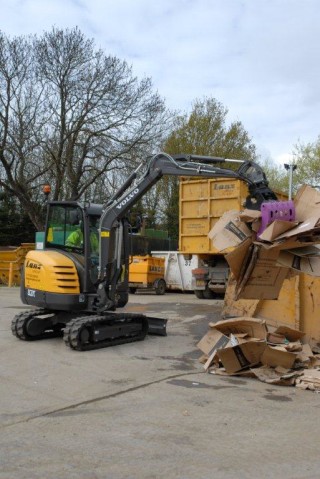 Established in 1943, Lanz Group is a family-owned business that has grown into one of the leading waste management service providers in Berkshire. From its headquarters on the edge of London's Heathrow Airport, Lanz Group operates throughout the Thames Valley and within the M25. The company has built its reputation on providing quality professional services such as waste collection and transfer, recycling and land restoration utilizing a fleet of 19 vehicles including tippers, skip and rollonoff lorries. The Lanz Group is also very proud to have recently been awarded with a Royal warrant for waste management including recycling services to Her Majesty.
SM Plant Ltd based in Rugby is the dealer for Volvo utility covering the Midlands and central southern England.