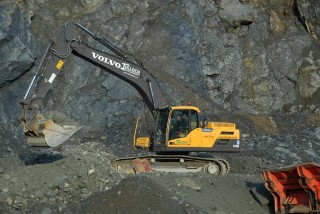 So I can only imagine that anyone buying machinery there will put quite a premium on reliability, because no matter how much your supplier prides itself on customer service, logistics are always going to be a little bit trickier there than for those in Glasgow or Birmingham, for example.
I was interested to hear, therefore, that Lerwick-based Tulloch Developments has been choosing Volvo lately. It has just taken delivery of its fourth Volvo excavator, a new 25-tonne class EC250D. This machine has been put to work as the prime mover at the company's Staney Hill Quarry on the outskirts of Shetland's capital.
Smooth performance and fuel savings were also mentioned as key criteria in the buying choice, along with operator preference and comfort.
The EC250D joins the three 14-tonne EC140Ds that were bought a year ago for general contracts supplying plant, equipment and material to the oil and gas industries at Sullom Voe. "We've found the fourteen-tonner to be a good all-rounder for general contracting work," says project manager Shaun Tulloch.
And the newest machine seems to be well on top of the job of loading the resident mobile crusher. "So far we've been very pleased with its performance and already we are starting to see some significant fuel savings over the machine it replaces," he adds.

Quarrying is just one facet of Tulloch Development's diverse business interests on Shetland. It was established back in the late 1960s by Shaun Tulloch's grandfather, who started out as a carpenter and builder. The business developed with his father and uncle joining in the late 1970s. The now fully-fledged civil engineering company remains family run and does a whole variety of works such as industrial construction, pipelines and harbour reconstruction and development. In particular it concentrates on harbour and port development in Lerwick and other ports on Shetland, as well as on long-term contracts at the oil and gas plant at Sullom Voe.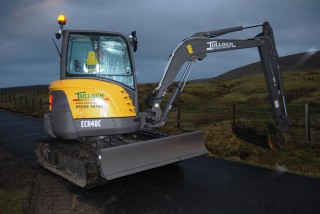 It also offers plant hire to customes including Shetland Council and it was specifically for council work that Tulloch last year bought a Volvo ECR48C reduced swing compact excavator (pictured above). A larger ECR88D is now on order for delivery next month.
The recent Volvo additions join a mixed fleet of equipment in Tulloch Development's portfolio with excavators up to 36 tonnes, a variety of loading shovels and other equipment such as telehandlers, rollers etc. The company also operates a fleet of eight tipper lorries, two articulated lorries, lorry mounted concrete pumps and asphalt pavers and employs around 65 permanent staff.