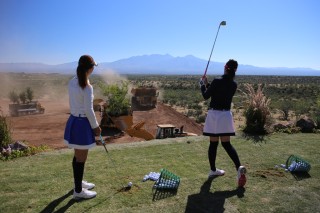 We've seen Giant Jenga and Cat in a China shop. Now here we are on the golf course – or at least, a strange makeshift mobile golf course in the Arizona desert.
As you will see, two Japanese golf pros take the sport to a whole new level as they tackle a course made entirely of moving Cat equipment.
The golfers are twin sisters Erimo and Marimo Ikeuchi—members of the Japan Ladies Professional Golf Association (LPGA). Their 'golf course' is at the Caterpillar Tinaja Hills Demonstration & Learning Center near Tucson, Arizona.
The five Cat machines that make up the course are a 772G, 775G and 793F off-highway truck, a 982M wheeled loader, and a CT660 on-highway truck.

Those greens look a bit ropey.
While those sisters are clearly pretty good, I think I would have preferred to see Boon & Otter have a go – that's Donald 'Boon' Schoenstein (Peter Riegert) and Eric 'Otter' Stratton (Tim Matheson) for those who are insufficiently familiar with that National Lampoon classic, Animal House.
Always worth another viewing….