Takeuchi mini excavators are extremely popular in the UK marketplace, both with operators, owner operators, and large feet owners. From an operator's perspective, most of my fellow professionals have nothing but praise for the silky smooth and powerful machines, whose stunning red & white livery makes them stand out on any site.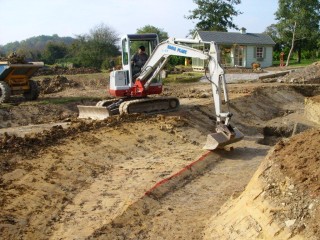 I have spent many hours on Takeuchi products and always found it a pleasurable experience. The TB135, in the shot above, had not had much care & attention over the years, being part of a hire fleet, but was still a joy to operate. The job I was doing there involved the formation of a pond for koi carp, and the customer wanted differing levels, depths and shelves, to accommodate the fish, it was one of those gratifying jobs that once completed gave a great deal of satisfaction.
In 2007, our local Takeuchi dealer CBL Ltd based in Saltash, Cornwall, organized a weekend "dig-in" in conjunction with WH. Bonds Ltd. The event gave potential customers and operators the chance to try out the latest products from Takeuchi and other products from the CBL sales portfolio. I was keen to try out the TB1140, Takeuchi's largest excavator which weighs in at 14 tonnes.
I found it to be an awesome piece of kit with plenty of power from its 62.2 kw Isuzu engine, coupled with the almost legendary smooth and precise hydraulics. The machine offers everything you could want from a 14 tonne class machine, but with all the benefits of a mini digger with its very useful offset arm feature and dozer blade. The operator in this next shot was really testing the machine to the limit with a massive bucketful of material over the side!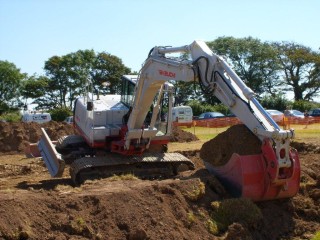 The cab on the TB1140 had plenty of space in it, with a decent amount of room behind the seat for personal items, something which many complain about on the smaller mini excavators, I can't say it's ever bothered me too much as I don't like a cab to be cluttered up with rubbish and being on the short side I don't have a problem with leg space either!

Another popular model on the open day was the 8 tonne TB180FR reduced tail swing excavator, these machines are very popular on today's congested sites, and on road drainage and utility jobs when working with one lane closed. Some find the unusual offset arrangement a bit strange to start with, but once mastered it's extremely handy, especially when one needs to dig either side of services etc. Operators can also operate the machine close to walls and other obstacles without the risk of damage to the machines superstructure.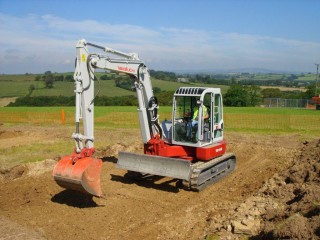 During my time at work on the Whitleigh school development in Plymouth, I spent time on a TB175 machine, which has recently been replaced by the new TB285, which we hope to test drive next week. From time to time I also operated a TB016, which competes in the highly competitive 1.5 ton sector.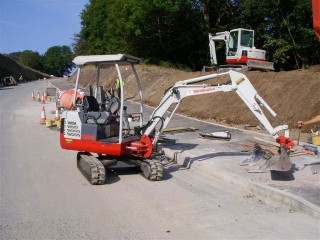 My main mount on that job was a TB145, 5 tonne machine which was owned by ADS Ltd. I took the machine on from brand new which is always a pleasure, and enables you to keep the machine in top order from day one. The TB 145 was a fantastic little machine and was ideal for the job we were doing on site, which consisted of delicate trenching work in amongst existing services to install new water and gas pipelines. The delicately smooth hydraulics, being a godsend throughout the job.
I was reunited with this same machine in July 2009, when I was asked by its owner to perform some site clearance works in the field behind his property, which had become over grown. It was a great way to spend a couple of days and the machine still brought a smile to my face.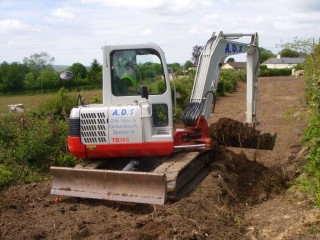 Look out for my post on the latest Takeuchi machines on the Digger Blog soon.