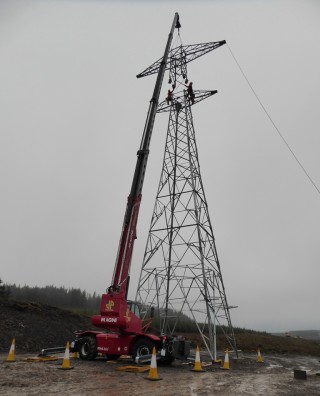 The Magni RTH 5.35 has a reach of up to 35 metres, some 5 metres more than industry standard, and can lift loads or personnel up to 1,000kg using its extended boom lift.
It is pictured above in action on Scottish Power's South West Scotland Renewables Connections Project in New Cumnock.
Grangemouth-based Jarvie Plant supplied this machine to the project for the current phase of the works, which is seeing 270 new electricity pylon bases and towers constructed along the B741 and A743.
The project started three years ago and involves four key stages to connect seven proposed wind farms with sub stations at New Cumnock, Coylton, Glenglass, Black Hill and Meikle Hill. More than 40km of overhead and underground power lines are also being installed.
The RTH 5.35 is currently being used on new pylons in areas where the topography of the land makes access difficult for mobile cranes.

"The telehandler has always been a very versatile piece of kit and it is vital to the type of work currently ongoing in South Ayrshire," says Jarvie Plant's business development director, David Jarvie.
"We have made a significant investment in this latest development in rotating telehandler technology and we continue to pioneer telehandler use to our clients across our various service sectors," he adds.
Pictured below (left) is John Jarvie, 57 years ago, taking delivery of that very first telehandler, a Sellick Teleporter by the look of it.