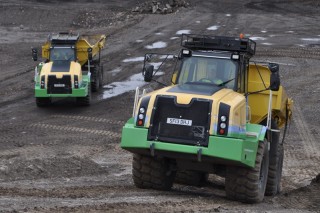 Malcolm Construction is working on a large regeneration project in the east end of Glasgow, hauling muck, and the job has proved a great proving ground for a pair of new locally-manufactured Terex TA300 articulated tipper trucks.
Darren Gilmour, general manager at Malcolm Construction, says that while the muck is just being dispersed around the site to maintain a level, rather than being sent to landfill, trucks are used alongside excavators.
"Where muck has to go distances in excess of 200 metres within sites we prefer to utilise dump trucks as this provides speed and efficiency to meet programme and cost implications," he says. "For example, the trucks on site in the east end of Glasgow are moving clay-type materials from cut areas of the job approximately 200-300 metres away."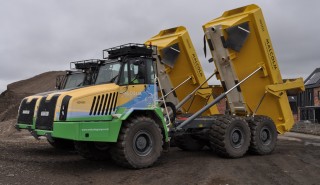 The TA300 was chosen for its robustness, he says.

Malcolm Group CEO Andrew Malcolm adds: "We originally reached out to three truck manufacturers. In the end, we chose Terex because we have had a successful relationship for many years with the Motherwell factory and its UK distributor, TDL Equipment. The customer support and parts back up we receive is second-to-none and the trucks are reliable and fuel-efficient, which are vital components when you're running successful projects on budget."
Kenny Price, sales manager at TDL Equipment, says: "The Malcolm Group is one of the leading providers in logistics, construction and maintenance services throughout the UK, so we are delighted to continue our relationship with them. The new TA300 trucks should provide a reduction in operating costs versus the outgoing TA30 trucks while maintaining the performance advantages the Terex trucks are known for.
"Everyone who works alongside Malcolm Construction knows that it operates a fuel efficient fleet that is reliable and helps deliver projects on time and on budget. We're pleased that the Terex trucks meet their high standards in this regard," he adds.