Bangkok is of course the country's capital city, and no tourists visit would be complete without a trip to this bustling hive of activity. Whilst driving around the city, Luke spotted this Kobelco SK300 machine fitted with a long reach boom and arm, which appeared to be working on a deep drainage project. Note the flimsy bunting around the excavation!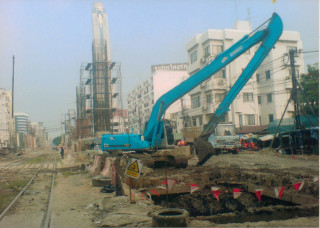 During Luke's visit to Bangkok, he also visited a site where a number of other long reach excavators were working. The distinctive blue Kobelco machines appear to be very popular in the region and two are seen here on this job of which sadly I have no details on.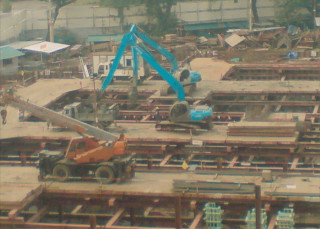 Also spotted on the same site was this Caterpillar long reach machine. These photos have got me wondering if they were excavating for a new marina or underground car parking maybe?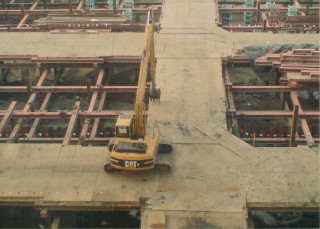 Whilst touring around the city, Luke came across the regional Caterpillar dealership Metro Cat, and stopped by to take a look at what was in stock. There was not much in the way of new stock but some fairly tidy second hand and refurbished kit was to be seen. Like these two dozers, a small D4H model and a D8K which look like they have had a good lick of paint.
Also on show was this fine example of a Caterpillar 140G motor grader, fitted with an open air canopy which is so common in warmer climes.
And finally at the Metro Cat facility, this Cat 320C hydraulic excavator, which is in fairly good condition. I like the addition of the Tier II sticker beneath the rear side panel.

Back now to the island of Ko Chang and Luke spotted this very interesting old Sumitomo excavator, which is possibly an early 1990's 20 ton machine. Its colour scheme also made me wonder if it might be a Link Belt American market version, as the two companies have had a long running operational alliance, as JCB did with Sumitomo with the JCB-SCM joint venture which ran from 1992-1995.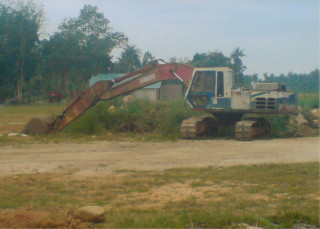 Another popular Asian make is represented here with this Hitachi EX200 Landy excavator, which is seen working alongside a river embankment and appears to be chucking out a fair bit of white smoke! Note the rear panel missing too.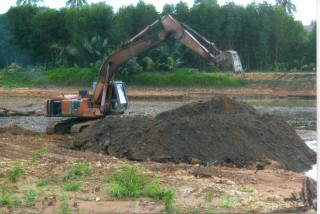 Here's another example of the popular Kobelco SK range of excavators, at rest parked in amongst the surrounding palm trees.
Another long reach machine now, with this golden oldie Komatsu model which is also sporting an unusual colour scheme. This machine appears to have been stood for some time like so many that Luke came across abandoned by the roadside.
And to round off this collection of holiday digger snaps, a very unusual machine of which I am not sure of the correct identity. It's a wheeled loader with a backhoe attachment fitted onto the rear end. The badge on the tank says Komatsu but the actual loader looks like an old Hough to me. Can any readers give a positive identification on this one?
The Digger Blog thanks Luke for sharing his holiday digger experiences with us. Don't forget you can also keep up to date with what's new on the blog by visiting our Friends of the Digger Blog page on Facebook and on Twitter.