This year's MaskinExpo took place at a totally new venue on the site of a former golf course. The Stockholm Outdoor Exhibition area is set in 90 acres of the most beautiful landscape surrounded by trees, which makes it the perfect new home for a show that has been running for almost 30 years now. This was my first visit to the show, and indeed my first ever visit to Sweden, but what a wonderful visit it proved to be. There was nothing majorly new to be seen, having recently reported on many of the new launches at Intermat, but nevertheless there were some interesting items on show.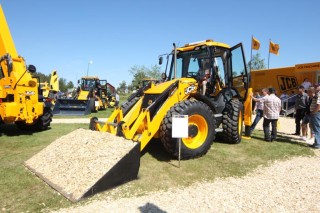 This JCB 4CX caught my eye whilst visiting the JCB stand, and certainly looked the business with its Scandinavian specification road tyres, front loader "grading" bucket, and tiltrotator on the backhoe.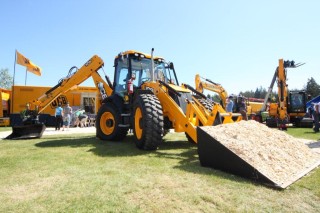 JCB's new generation of hydraulic excavators were also well represented at the show with the familiar high specification one expects on Scandinavian market machines, this JS145LC model featured an Indextor tiltrotator and a GPS system from Scanlaser as well as a top of the range cab interior.
Over on the Volvo stand, the world's fastest wheeled loader the Volvo L60G PCP, was attracting a lot of interest. Built around an original G-Series prototype loader this machine has been put together by a team of technicians from Swecon, the main Volvo dealers for Sweden, in collaboration with Volvo Polestar Racing and Bridgestone. On May 3rd 2012 the driver Karin Olsson achieved a new world speed record for a wheeled loader of 103 km/h at the Anderson Raceway.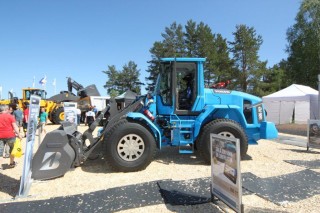 A large bank of stone to one side of the Volvo stand was set aside for young and old operators to get hands on with models from the company's excavator range, all fitted with tiltrotators of course!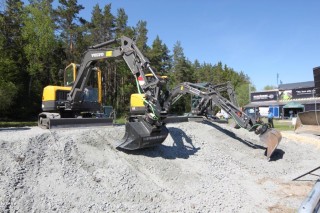 Also on the stand, was an example from the company's new skid steer loader range which are a result of the company's joint venture with JCB. This MC115C model was displayed equipped with a set of pallet forks.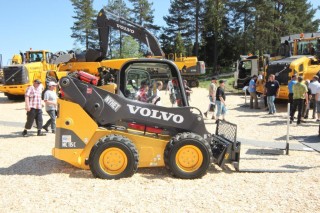 Caterpillar dealer Pon, who cover Denmark, Netherlands, Norway, Sweden and the Baltic State's, had an impressive stand with many items of kit aimed specifically at the Scandinavian market. This Cat 140M motor grader was well equipped with a snow wing for winter road clearing work.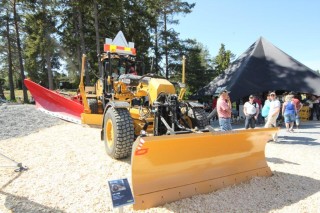 Also on show, and seen operating in the demonstration area, was the new Demlone DLH100K high-lift log handler, which is based on the K Series, Caterpillar 980K wheeled loader.
E Series excavators continue to turn heads and this 336E model fitted with an Engcon tiltrotator was available for customers and operators to test drive adjacent to the stand.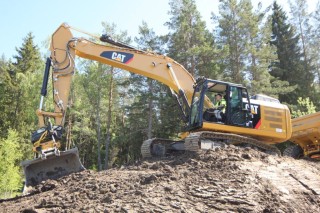 Someone else who was turning heads at the show was the young lady at the controls of this Doosan DX140LCR compact radius machine on the VTN Europe stand, who was demonstrating one of the company's rotary screening buckets.
I have to say this show was extremely well attended with a good family day out feel to it. Young children accompanied by an adult were welcome unlike most shows of this nature in the UK. This can only be a good thing in my opinion, as youngsters are the young blood our industry needs for the future.
In this photo courtesy of Eva Klint, some youngsters are seen enjoying a bit machinery action on some amusement arcade style mini excavators, in a specially constructed sand pit within the Volvo stand.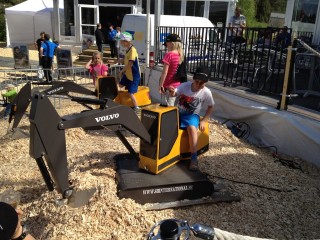 In Part Two of this blog post we will continue my look around the showground.