That's him above, on the left, taking delivery from Volvo's regional business manager Charlie Flaws.
Based in Campbeltown in Argyllshire, Jamie has had five good years operating his previous ECR88 Plus. "Bearing in mind our location it's vitally important we operate reliable equipment and to be honest I cannot fault the ECR88," he says.
He was drawn by the specification of the new ECR88 Plus, which includes hammer shear hydraulics, hydraulic quick fit and hose rupture valves on both boom and dipper arm. In addition to the standard machine specification, he has added individual rubber blocks to the optional steel pads available for the machine.
"We take on a whole variety of work here on the Kintyre peninsula from general civil engineering to forestry work which requires a robust undercarriage to road and pathway maintenance which suits the use of rubber tracks, so adding blocks to the tracks has made the machine highly versatile," he says.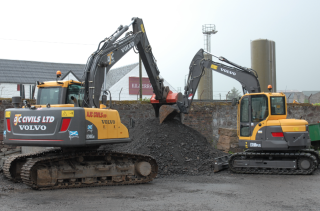 The new ECR88 Plus will be working alongside joins a Volvo EC140C excavator already in the fleet, which has a heavy-duty forestry undercarriage.