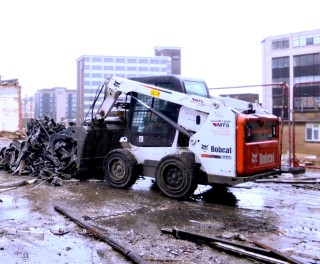 Castle Market was for many years a local landmark in Sheffield. It was built in 1928, with later additions being made in the 1960s and 1970s. The history of the site goes back much further, however. It was constructed on the ruins of Sheffield Castle, which was built in 1270 and destroyed in 1648 by Parliamentarians after the English Civil War.
The indoor market finally closed its doors for good in November 2013, to coincide with the opening of Sheffield's new Moore Market in the same year.
Wakefield-based MTS Plant Hire & Sales has worked with Hughes & Salvidge Demolition for a number of years, during which time MTS has supplied it with a range of specialist Bobcat machinery for use on many jobs. The Bobcat S550 loader from MTS has proved to be a vital piece of equipment for Hughes & Salvidge in Sheffield because its compact size enables it to work in the confined spaces inside the market, collecting debris and rubble with the Bobcat grapple attachment also supplied by MTS.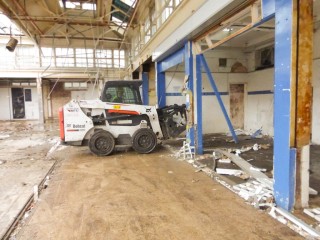 Demolition work began with asbestos removal, followed by a soft strip, with the superstructure now being demolished down to the concrete. Some 98% of the waste material is being recycled. Some elements of the demolition have had to be carried out by hand with steel plates used to protect and preserve the ground beneath the structure. Hughes & Salvidge will leave the site at 'slab level' so that the ground can be dug up for archaeological purposes in a second phase of the project. At the moment, no-one is completely sure how much of the original castle remains intact. However, the city council is planning to turn the area into a public park that will feature whatever exposed ruins are found buried beneath the former market buildings.