On one of our early site visits to see a Cat 329D with Engcon tiltrotator in the city of Ostersund, I was delighted to spot an extremely well kept Akerman H7MC wheeled excavator. This machine which was also owned by local contractor Curt Sillstrom, is still in regular use within the company's fleet and is currently being used to perform hammer work, a fitting testament to the longevity of these fine old Swedish machines.
According to the 1992 statistics that I have, the H7MC was powered by a Volvo TD61 ACE engine which produced 145 hp. It had an operating weight of 15.6 tonnes and a rated bucket capacity of 0.725 m3. The machines were produced from 1985-88 and further models that featured an all new comfort cab were produced from 1988 until production ceased in 1992, during this time a total of 738 machines were produced.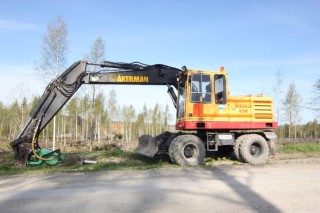 During our tour of the Engcon facility in Stromsund, we spotted an old Broyt X21 hydraulic excavator. Weighing in at around 13 tonnes, these Norwegian built machines were very strange beasts indeed. They had no drive to the undercarriage and had to propel themselves around by use of the arm or behind a towing vehicle of some description.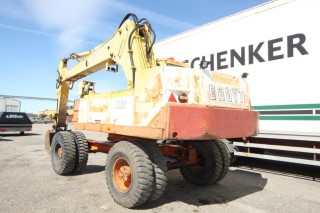 Still in Stromsund, we paid a visit to local plant and machinery businessman and entrepanuer Jocke Furrer, who also works closely with Engcon as a demonstration operator. Jocke has an extensive fleet of machines which includes a number of Volvo wheeled loaders, and a Komatsu PC88 excavator, which of course is Engcon tiltrotator equipped. But Jocke also has an old Volvo BM motor grader in the fleet, which although it looks rather tired is still capable of putting in a good shift when required.

The next day in Arlanda, near Stockholm, at the MaskinExpo 2012 event, in amongst all the new kit on display were a couple of old machines to enjoy. Apparently in previous years there has been a much larger gathering of vintage plant but on this occasion there was not that many to see. However I did come across this old Akerman H14B model, which was on display in an area selling second hand machines.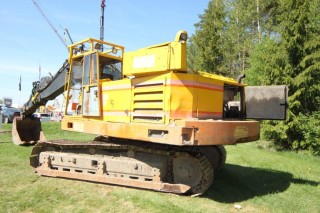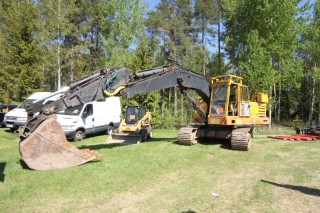 Later in the day I came across this superb restoration job of a Oliver OC-3 crawler tractor, which I will be doing a more detailed report on in a future blog post.