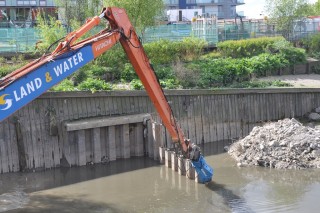 The project is designed to improve water flow into the River Thames to help restore a wildlife habitat measuring roughly a hectare in size that has the potential to become a spawning area and nursery for young fish.
Removing all the sludge and silt that has built up over the years will hopefully restore a thriving habitat for aquatic flora and fauna.
Land & Water's contract for Wandsworth Council was valued at £1.7m and took six months to complete.
The Wandle Weir project called for a range of Land & Water's specialist equipment including a mini amphibious machine to collect sediment samples and a spud pontoon with marine crane and JS 145 long reach excavator, to complete the dredging.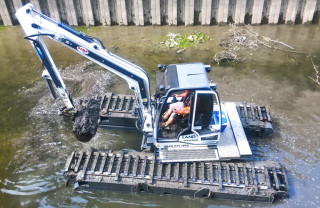 For the demolition phase, a Hitachi Zaxis 350 long reach excavator working from a pontoon, mainly positioned above the half weir, facilitated use of the various attachments used during material removal.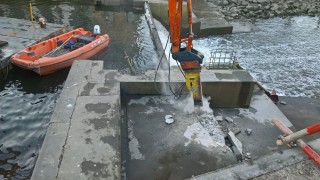 Land & Water called on Sandhurst to supply the specialist attachments including a hydraulic breaker, rotating steel shear, pile driver and ripper tooth to help complete the job.
One of Sandhurst's powerful mid-range Atlas Copco breakers was supplied with an underwater kit to allow breaking below water level. After breaking the reinforced concrete, a 1-tonne shear was used later in the process for cutting rebar. Removal of embedded sheet piles was achieved using a combination of vibratory pile driver, underwater breaking and the ripper attachment.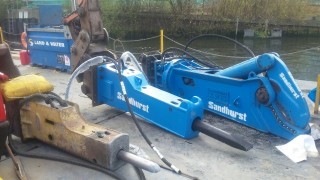 Barges moved the silt and demolition material to the unloading area where they were discharged with a 22-tonne long-reach excavator and clamshell grab. An estimated 7,000 m3 of silt and waste material was removed over the course of the project.