The 2013 JCB calendar features some of the UK's top models on a fashion shoot, with JCB's factories as the backdrop. Clothed in the company's unique colour, the models, including Rosie Jones, contrast the cold hard world of engineering with the artistic worlds of fashion and photography. The concept developed by George Bamford and the JCB DesignWorks creative team, features unique garments created through the study of fluid dynamics. The 12 month project saw the team of digital artist Stuart Reeves, art director Steve Brazier and George compose the images.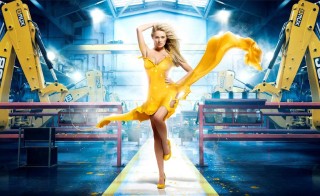 With a reputation for fashion and lifestyle photography, George says he was determined to explore new creative territory for the 2013 Calendar: "I have been fascinated by the possibilities of fluid on fashion, taking the colourful hues we take for granted on vehicles and moulding them to the human form. The results are fantastic! Beautiful models wrapped sumptuously in swirls of rich JCB yellow, displaying a dynamic female confidence in a striking factory setting. An exquisite combination!"
George graduated from the Parsons School of Design with a BFA in Photography and a Masters in printing. Having completed his studies, he served his apprenticeship working alongside some of the most famous photographers in the business; Antoine Verglas, Rankin and John Swannell, former assistant to David Bailey. It was during his apprenticeship with Swannell that George developed a strong interest in couture fashion photography.

The creation of the 2013 calendar used some of the latest photography and digital imagery techniques, along with some genuine lateral thinking and artistic flair.
The 2013 JCB calendar is available to order now.
For more details visit www.jcb.co.uk/About/Calendar.aspx