The assembled fleet of scrapers in these great archive photos, are seen on the site of the A13/M25 Tilbury-Southend road construction job in 1980. At the time, this was the largest fleet of Wimpey owned motor scrapers at work anywhere in the UK.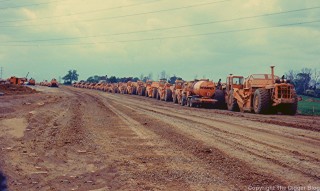 At the height of the job, Wimpey had 18 Terex TS24 scrapers in action, which were all twin engine machines featuring a pair of V8-71 General Motors two stroke engines, which were, as we all know, incredibly noisy when working.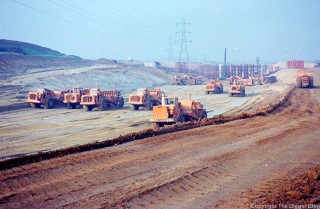 Micky said, "We lost a few engines during the contract, as most of these machines had come direct from other projects, without going back into the workshops at Lancaster Road for a full service and a bit of TLC, as they usually would have done. At the time we really didn't realize that this was in fact the biggest fleet of scrapers Wimpey had ever used on one job, which made it pretty impressive to be involved with"
Of particular interest to me in the photo above, is the scraper sporting the number plate AYY 354T. By pure coincidence, my first regular mount on Wimpey Plant (Department 23 Southampton) was a brand new JCB 3CIII, which bore the registration number AYY 350T!

Sadly Micky, and many of his work mates, figured it was the beginning of the end for the famous George Wimpey (Plant) Department 1. Whilst the team were working near Tilbury Docks, Wimpey were actively bringing back Terex R50 dumptrucks by the dozen from South West Ireland, and also by land from the large mining projects in South Wales.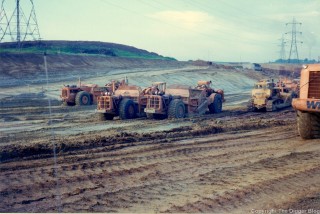 With no major projects in the pipeline at the time Wimpey Plant had to hire land in the West of London to park up the redundant kit, and in most cases it was in this location, that many of the machines remained in storage until they were sold off.
Micky worked for Wimpey Plant for 20 years, both at home and overseas, and like many of us was deeply saddened at the company's demise.
We thank Micky Denne for sharing these superb classic photos, and I echo Micky's sentiments when he says he would love to see more Wimpey yellow machines here on the Digger Blog, so if you have any lurking in the back of the wardrobe, then don't delay and send them into us.