Looking very much like a creation from the mind of Thunderbirds creator Gerry Anderson, this machine is said to be the world's heaviest forestry mulcher. Manufactured by Plaisance Equipements, this 26,300 kg tracked monster is powered by a 765hp Cummins engine and is ideal for heavy duty grinding work in the most hostile of environments, including heavy forestry on steep slopes and marshy ground with its low ground bearing pressure.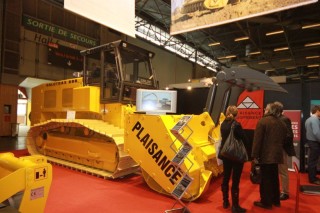 The machine features D7 size track components and a hydrostatic drive system that offers two speed ranges in both forward and reverse. The "Suptronic" system guarantees optimum driving speed depending on mulching head loads. A clever anti-stall system also assists the operator to get the best production capacity from the machine. Check out this video and watch in awe at the machines capability to take down entire trees in its path!

As one would expect, the cab is well appointed with full air-conditioning and easy to use single control joystick; but most importantly the operator is protected from flying debris by the inclusion of Margard anti-projection windows which are 12mm thick.
I think you will agree it's a bit of a beast!