Moveman SKG (a trading division of Otis Limited)
0116 225 2100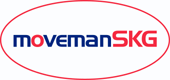 MovemanSKG is a supplier of specialist lifts. We supply platform lifts and service lifts for industrial and commercial applications. These include schools and colleges, hotels and restaurants, shops, leisure centres, churches and libraries.
As a trading division of Otis Limited, movemanSKG has a strong reputation for supplying high quality products and services.
We supply our platform lifts to schools and colleges, the leisure industry and commercial applications. We also supply service and goods lifts.
We were one of the first companies to recognise the special access needs of the wheelchair user (there are 600,000 in the UK), and have subsequently installed more than one thousand platform lifts.
Our range is very comprehensive, with units capable of lifting a wheelchair user between 550mm and nine metres. Units for internal and external use are complemented by a wide range of accessories that can tailor each platform lift to its application and the surroundings. Being part of Otis the quality of our products and support are what you would expect from the market leader.
Getting in contact with Moveman SKG (a trading division of Otis Limited)
Address:
123 Abbey Lane
Leicester
Leicestershire
LE4 5QX
Tel: 0116 225 2100
Moveman SKG (a trading division of Otis Limited) Products & Services