The Construction Index Website & Newsletters
The Construction Index is the leading online information source for the construction & building industry. It is free to access, with no subscription or registration pay wall.
In 2018 The Construction Index UK attracted more than 2.6 million global users, delivering over a million pages per month.
More than 1.4 million users are office based, active between 8am – 5pm via desktop PC's.
Our websites provide a wide range of content including:
> comprehensive coverage of the main construction news and issues affecting the industry
> issues affecting the construction industry
> contract leads
> construction tenders
> construction awards
> construction planning leads
> in depth market data and forecasts
> construction law analysis
> construction magazine
The Construction Index also features the UK's largest construction search engine, providing details of products and services from over 87,000 UK construction companies. Its FREE to add your business today.
We know just how important targeted internet advertising and real tangible results are to our clients, we provide uniquely targeted and effective online marketing and representation for companies 24 hours a day, 7 days a week, ensuring our customers are being viewed by their ideal audience.
Online Advertising Rates
Construction & Plant Newsletter Advertising Rates
Sky Scraper
Per week
Dimensions 160px x 706px
Filesize Max 50kb*

Sky Scraper
Per Day
Dimensions 160px x 706px
Filesize Max 50kb*



* Banners must be a static GIF of JPEG

£1000




£250

Our daily email newsletters have more than 35,000 daily subscribers & 25,000 for the weekly plant news bulletin. We send more than 1 million emails per month to our "opt in" recipients. As with access to all areas of our websites, this service is free of charge. This offers our advertisers the opportunity to broadcast their message direct to our users' inboxes.
The Construction Index email newsletter is something that our users are expecting to receive every day, this offers a strong platform for trusted exposure.
For full details of our privacy policy: theconstructionindex.co.uk/privacy
Daily Construction News
Weekly Plant & Equipment News
Weekly TCiTrader - Used Equipment
We also offer a USA Construction news service.
Run of site advertising
1
Leaderboard
Monthly period
Dimensions 728px x 90px
Filesize Max 50kb
£30 per
1000 impressions*
2
Top Square
Monthly period
Dimensions 200px x 200px
Filesize Max 50kb
£1250
3
Bottom Square
Monthly period
Dimensions 200px x 200px
Filesize Max 50kb
£20 per
1000 impressions
4
Mid Page Unit
Monthly period
Dimensions 300px x 250px
Filesize Max 50kb
£1000
5
Peel Page
Monthly period
Dimensions 500px x 500px
Filesize Max 50kb
£900
6
Peel Page Icon
Monthly period
Dimensions 75px x 75px
Filesize Max 50kb
(included with peel page)
* Minimum booking of 50,000 page impressions a month. There is no upper limit on the number of slides per banner, however the more you have the more this will increase the overall size of the file. All banner artwork must be submitted for approval five working days before going live. All banners can be supplied in either GIF or JPEG format.
Directory rates
1
Standard Entry Position
(Up to 30 headings)
£1,000 p.a*
2
Enhanced Position
(Rotating 5-7)
£650 p.a
3
Premier Position
(Rotating 2-4)
£750 p.a
4
Top Position

£1,500 p.a
5
Product Leaderboard Banner

£1,000 p.a
* The Standard Entry Position gains you entrance level advertising on The Construction Index. You may then choose to enhance your advertising with the advanced options listed above. An Enhanced Company Entry on the Construction Index will effectively allow you to promote up to 30 areas/search terms within your business for 12 months, 365 days per year.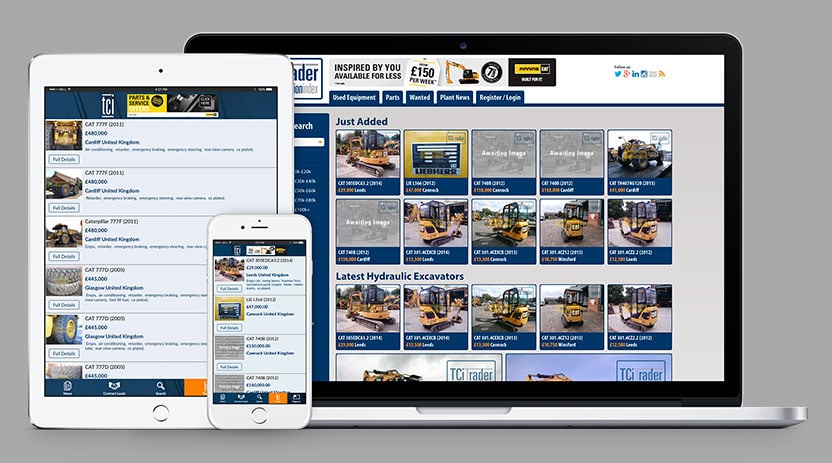 The perfect shop window for your new and used plant equipment.
tcitrader.co.uk
...used in every continent of the world
Visit Website