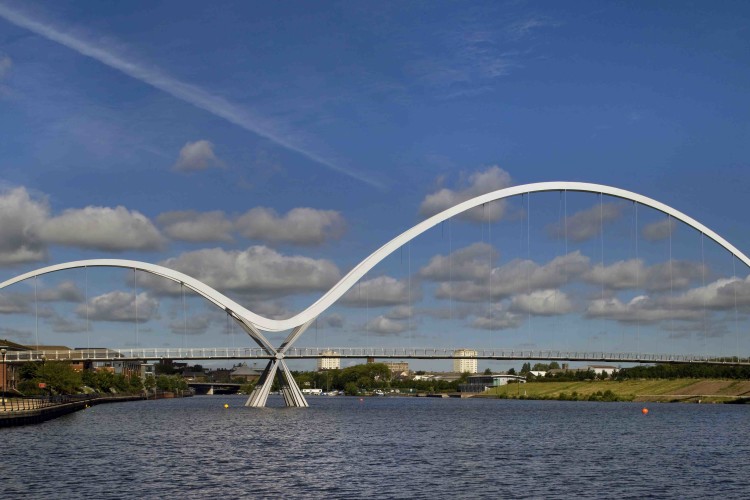 The three other new structures that the judges felt equally worthy to stand alongside the iconic Olympic structure are Audi West London, the Infinity Footbridge in Stockton-on-Tees, and Dublin Airport Terminal 2.
The awards are now into their 42nd year, recognising the excellence achievable in structural and architectural design with the use of steel. Judges selected the Award winning entries from a shortlist of 17, all of which scored highly in efficiency, cost effectiveness, aesthetics, sustainability and innovation.
Judges Chairman David Lazenby, said the 2010 entries compared well with those of any year since the awards scheme was launched in 1969. He said: "In challenging situations, the teams involved in all of the shortlisted schemes have acted in concerted efforts to produce some outstanding results. This year has brought forward a great demonstration of the industry's strength and capabilities."
All of the shortlisted projects were visited by the six strong judges team that also included Martin Manning, Chris Nash, Joe Locke, Gerry Hayter and Oliver Tyler.
Mr Lazenby said: "The entries to this year's SSDA show imagination, professionalism, and above all, service to the clients."
He added: "The projects on the shortlist, spread geographically right across the UK and Ireland, show enormous variety, with buildings ranging from a major airport terminal to educational establishments, and many commercial and industrial buildings. We are also starting to see work related to the 2012 Olympics, and no doubt there will be more to follow."
Commendations were awarded to four structures: the Rose Bowl, Leeds Metropolitan University; Cathedral Bridge, Derby; Energy Recovery Plant, Corus Port Talbot; and the A40 Perryn Road Footbridge in west London.
Certificates of Merit went to the Riverside Museum, Glasgow; Helical Stair, 500 Brook Drive, Reading; and Wind Turbine Enclosure, Strata, London SE1.
The 2010 Award Winners are:
Audi West London
Architect:                      Wilkinson Eyre Architects
Structural Engineer:       Expedition Engineering
Steelwork Contractor:    Rowen Structures Ltd (Severfield-Rowen Plc)
Main Contractor:            ISG InteriorExterior
Client:                           Volkswagen Group UK Ltd
Judges comment:
Comprehensively well designed and economical in form, the structure and its details reflect a technical ethos. The building showcases the values that Audi project to their public, with great panache.
This is an appropriately stylish and racy building, showing structural steelwork to great effect.
The Infinity Footbridge, Stockton-on-Tees
Structural Engineer:       Expedition Engineering
Steelwork Contractor:    Cleveland Bridge UK Ltd
Main Contractor:            Balfour Beatty Civil Engineering
Client:                           Stockton-on-Tees Borough Council

Judges comment:
An inspirational project which fulfils the client's brief for a landmark to open up a development area.
The elegant structure clearly describes the forces on it, and its simplicity belies the technical complexities which were handled by good teamwork.  Attention to detail is evident throughout.  This is steelwork at its most dramatic.
Legacy Roof, London Aquatics Centre
Architect:                      Zaha Hadid Architects
Structural Engineer:       Arup
Steelwork Contractor:    Rowecord Engineering Ltd
Main Contractor:            Balfour Beatty Group Ltd
Client:                           Olympic Delivery Authority
Judges comment:
An heroic engineering achievement which has overcome severe programme and constructional problems. A necessarily complex structure delivers the form and shape at the heart of what will become the emblematic and beautiful icon of the London 2012 Olympics.
This is a high profile success for structural steelwork.
Terminal 2, Dublin Airport
Architect:                      Pascall+Watson architects
Structural Engineer and Project Manager:           Arup
Steelwork Contractor:    Watson Steel Structures Ltd (Severfield-Rowen Plc)
Construction Manager:   Mace
Client:                           Dublin Airport Authority
Judges comment:
A large complex infrastructure scheme designed and constructed in a short time in the midst of the day-to-day life of a busy international airport. The intention is to provide an exceptionally user-friendly experience. The expression of the steel structure is clear, with consistent detailing.
A well executed project which demonstrates close cooperation between all involved, and a fine example of the capabilities of steelwork.
For further information on the SSDA Awards, winning projects and those projects awarded commendations and certificates of merit, please call: Nick Barrett at Barrett Byrd Associates on behalf of Corus and the BCSA: T; +44 (0) 1892 524455 
Got a story? Email news@theconstructionindex.co.uk