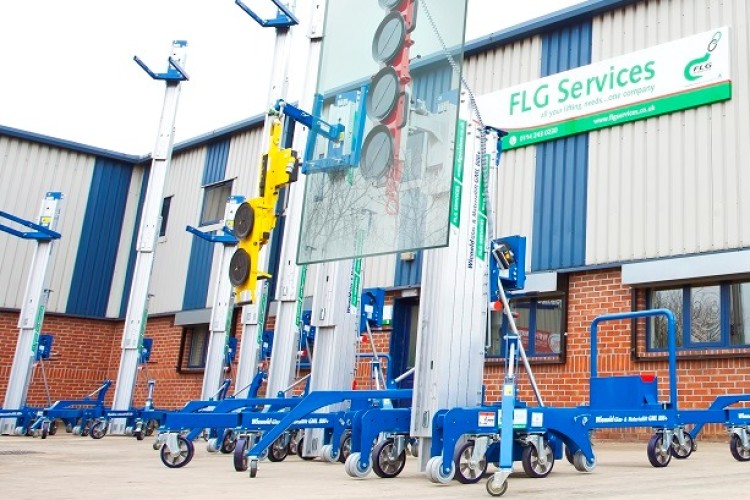 The German-made GML 800+ Series lifts have a safe working load of 900kg, which is more than usual for glass lifters.
FLG managing director Jeff Hudson said: "We have seen an increase in interest from customers for material lifts that can take heavier loads so we are really pleased to be the first hire company to have the GML 800+ Series lifts in our fleet. We worked closely with Wienold, using our vast product and market experience to help develop a lift that not only has an increased lift capacity but also stringent safety features and is simple for the user to configure."
FLG Services, formerly Fairview Lifting Gear, is a subsidiary of A-Plant since being acquired in December 2013.

Wienold managing director Norbert Wienold said: "We were delighted to work with FLG Services on the development of the GML 800+ Series lifts. The unique design of these lifts offers incredible benefits compared to those currently in the market. We have also been able to incorporate several extra safety features such as strategically placed leg locations to help the distribution of the weight, which in turn allows for different configurations and ease of set-up. The option of counter-balance to offer direct wall access is also available and a unique chassis with six swivel/lock 200mm diameter casters allows the lifts to be manoeuvred easily."
He added: "With such a heavy lift capacity, safety is of paramount importance, we have designed and manufactured the lifts with strong mast rollers, a generously sized deflection pulley, specialised steel rope, double safety brake and a solid steel chassis. What's more the lifts offer the end user operational benefits such as an electrically powered drive system."
Got a story? Email news@theconstructionindex.co.uk