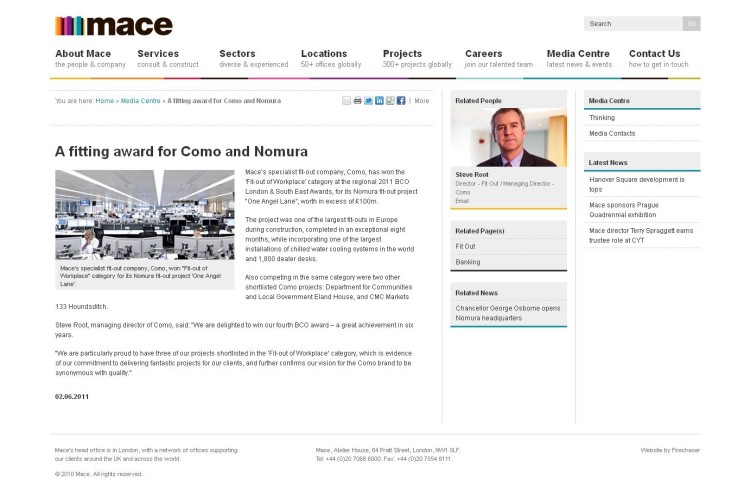 The Company also received the coveted CSCS Certificate of Commitment Platinum Award.
No.1 - City Heritage Award 'Highly Commended' for 1 Bartholomew Lane:
1 Bartholomew Lane is a 1930s office development located at the site of a former bank in the heart of the City. Main contractor Balfour Beatty appointed Putney & Wood to carry out the external stone package for four new upper floors, while the façade on the lower six floors was retained.
The new upper floors, which incorporate the Portland stone façades designed and installed by Putney & Wood, were 'Highly Commended' in the City Heritage Awards 2011. The Chairman of the Panel of Assessors commented "…the refurbishment of 1 Bartholomew Lane to be highly commendable particularly in respecting the façade and in successfully reworking the buildings upper levels".

No.2 - British Council of Offices 'Fit-out of Workplace' category win for Nomura fit out of 1 Angel Lane:
With a value of over £100m, the fit out of 1 Angel Lane for multi-billion pound Japanese conglomerate Nomura was one of the largest fit out projects in Europe. The extensive internal stone flooring and lining package for this challenging project was entrusted to Putney & Wood by fit out specialists Como. Following completion of the project, Como Managing Director Steve Root commented, "Your company scored an average score of 9 out of a possible 10, which is a good result with the following comments. "Level 11 was extremely good. No faults with great detail against stainless steel beads (9.75)."
No.3 – Construction Skills Certification Scheme (CSCS) 'Certificate of Commitment' Platinum Award:
The CSCS Platinum Award is only presented to companies that have demonstrated commitment to improving competence in construction and registered more than 90% of it's workforce under the Construction Skills Certification Scheme. Putney & Wood is delighted that the Company's long standing commitment to staff training has been recognised with this award.
Got a story? Email news@theconstructionindex.co.uk