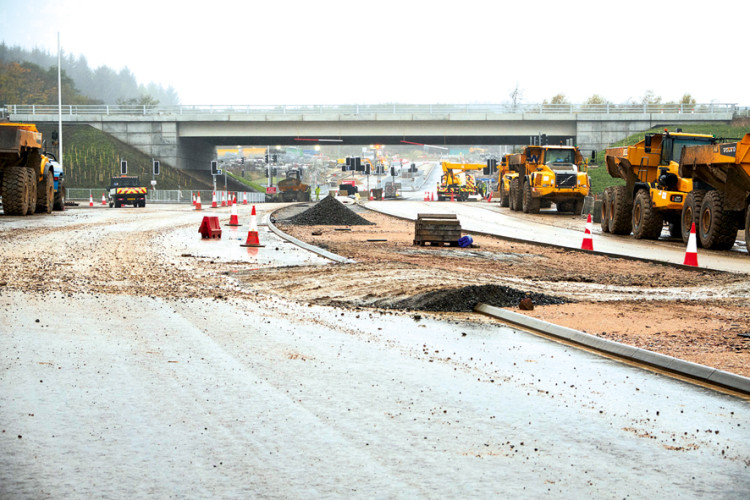 The AWPR project was one of three UK schemes that Carillion executives blamed for the financial difficulties that resulted in its liquidation in January.  Its joint venture partners in Aberdeen Roads Ltd (ARL), Balfour Beatty and Galliford Try, are now completing the project alone, bearing the weight of cost overruns.
The project was initially meant to be finished in spring 2017. When earthworks were not finished before the end of 2016 and winter set in, the opening was pushed back to the end of 2017. Subsequent delays pushed completion back to spring 2018.
The Balfour Beatty said last week, in its financial results statement, that it expected the completion date to be summer 2018. This prompted Transport Scotland to seek urgent talks with ARL as to whether Galliford Try shared this view.
The outcome from these discussions is that Transport Scotland now expects that it will not be until autumn 2018 that the road will finally open, a full 18 months after the initial anticipated completion.

The contracting team blames the impact of Storm Frank during winter 2015/16 for the first slippage. More recently there was the collapse of Carillion and bad weather earlier this month impacting on progress.
ARL's fixed-price contract was for £550m. Transport Scotland says that despite delays and cost overruns, its total expenditure on the project would remain £745m.
Keith Brown, the Scottish government's economy secretary, said: "While this revision to the opening date is very disappointing to the people of the northeast, we have to accept the expert advice of our contractors on the ground who are delivering this significant project."
He added: "The total scheme cost estimate is £745m and this remains unchanged as part of this announcement. Under the terms of the contract, ARL does not receive payment for the work until a section of road is open to traffic."
Got a story? Email news@theconstructionindex.co.uk