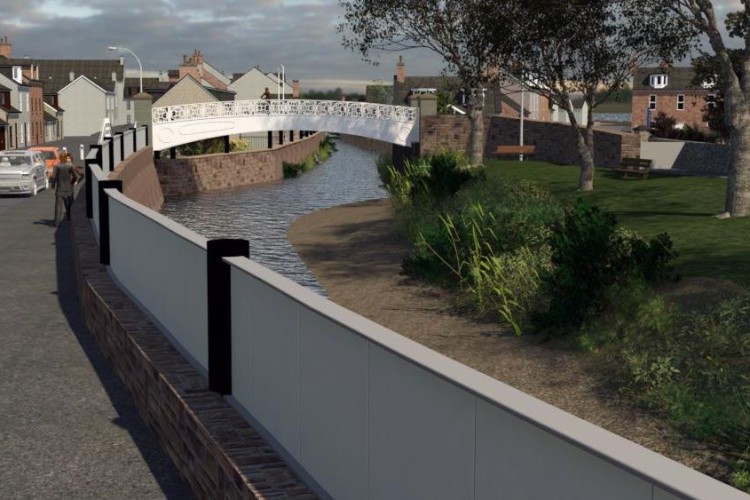 The Aberdeenshire Council project is designed to protect homes and businesses that have previously been badly affected by flooding around the River Carron.
The contract is being run as an "NEC option C target cost contract", with financial risks shared between the client and contractor.
Aberdeenshire Council said that McLaughlin & Harvey has a strong understanding of what's involved in the construction of the scheme and is keen to work with the community to ensure any disruption is carefully managed. A dedicated community liaison officer has been appointed as part of the contractor's team.
Project lead and principal engineer Rachel Kennedy,said: "We now have a contractor, a project plan and the money we need to deliver it, so after many years of painstaking work we're almost ready to start work on the ground. We are well aware many people in the town will be delighted to see this progress – flooding is not a distant memory in Stonehaven and it's hard not to think of it every time it rains heavily.
"The format the contract takes, known as an NEC option C target cost contract, means the financial risk is shared between the council and the contractor to a pre-agreed proportion – sometimes known as a pain/gain mechanism. This should help ensure the project is on budget and on time, though clearly with an undertaking of this size and complexity there can always be unexpected difficulties, but this and the painstaking design work which has been done up to this point will ensure those are kept to a minimum."

Stonehaven's flood protection scheme is designed to provide a 0.5% chance of occurrence (1 in 200-year flood event) standard of protection, including an allowance for climate change (33% increase to 2080) and a safety margin catering for uncertainties.
The project comprises a number of elements, including:
alterations to five bridges along the River Carron - removing, replacing and raising the Red Bridge and Green Bridge; repositioning the Green Bridge; removing, refurbishing and reinstating the White Bridge in a raised position; replacing the Bridgefield Bridge parapet with a reinforced glass type material; and raising and widening the Beach Bridge;
construction of flood walls between the Red Bridge and the river mouth;
removal of the island downstream of the Green Bridge will be removed;
installation of two higher-capacity culverts on the Glaslaw Burn and a new culvert under the gardens of Cameron Street;
the construction of a new pedestrian walkway from Bridgefield Bridge to the beach.
The council said that the scheme will provide a standard of protection well above the current Association of British Insurers requirements, reducing flood risk to 372 residential properties, two public utility sites, a school and an emergency service site.
Work is expected to start at the beginning of 2019 and to take 24 months to complete.
Got a story? Email news@theconstructionindex.co.uk