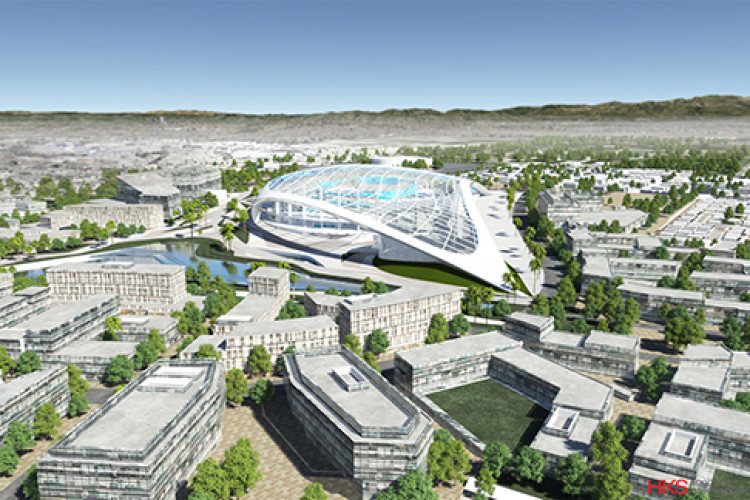 The new sports and entertainment venue for the American football team is the centrepiece of a 298-acre mixed-use project being built in Inglewood, California by Hollywood Park Land Company.
"After a competitive review of a number of outstanding construction firms, we have hired the best team to build the largest and most technologically advanced sports stadium in the world for the Los Angeles Rams," said Terry Fancher, president of the Hollywood Park Land Co. "These firms also offered a well-developed plan for meeting Hollywood Park's commitment to provide substantial employment opportunities for local Inglewood residents and meaningful economic participation in the stadium construction process for minority-owned business enterprises."
"This is a key milestone in the process of bringing the NFL and the Rams back to Los Angeles," said Kevin Demoff, chief operating officer & executive vice president of football operations of the Los Angeles Rams. "While we will call the LA Coliseum home for the next three seasons, we are pleased to work with Turner/Aecom to build our new stadium in Inglewood. This world-class venue will showcase not only NFL games, but also international and national events, in 2019 and beyond."

The stadium will be located at the heart of the new Hollywood Park entertainment district in Inglewood, which will include an adjacent 6,000-seat performance venue, retail space, and up to 300 hotel rooms. The project also includes office space, 2,500 residential units and 25 acres of public parks, playgrounds and open space.
"Construction of the new stadium is expected to provide more than 3,500 on-site construction jobs in Inglewood and, in total, more than 10,000 jobs through completion," said Robert Aylesworth, principal-in-charge of the Turner/Aecom joint venture.
Turner/Aecom joins three other firms already engaged in the stadium project: Legends Project Development, which is providing project management services; HKS Architects of Dallas, which designed the new stadium; and Wilson Meany of San Francisco, which is providing infrastructure management services for the stadium project.
Got a story? Email news@theconstructionindex.co.uk