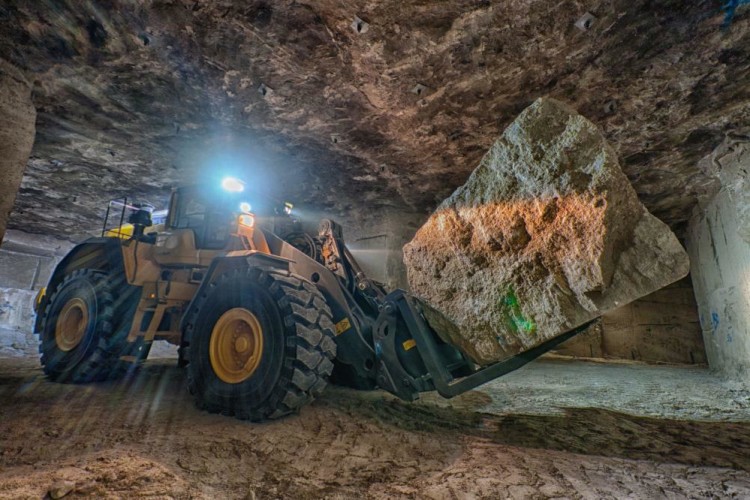 "We wanted a robust and productive machine to replace our somewhat unreliable telehandler but one of the important criteria was the overall height of the machine," says mine manager Mark Godden. "Having looked at what was available and researching our options we approached the team at Volvo to come up with the right machine and specification for the job."
The initial approach was to trial what was deemed to be the optimum sized loader in the application and so a Volvo L150G was sent in on an extended demonstration. One of the key points in its favour was the significant breakout torque available to prise the partly sawn blocks from the mine face.
The solution to the overall height issue was overcome as Volvo arranged for a third party, Kiruna Industri in the far north of Sweden, to reduce the cab height by 350mm.

The whole process from initial enquiry to machine delivery took just under 12 months.
Besides the reduced height of the operator's compartment the L150H features a hydraulic quick hitch to facilitate the easy change-over of attachments. These include a standard 3.8m³ general purpose bucket for cleaning up; heavy-duty 1500mm block forks capable of handling blocks weighing anything from 7t up to 12t and 'upside down' forks. The L150H has plenty of breakout torque to prise the majority of part sawn blocks from the face but there is the occasional need to encourage some more awkward blocks away from the face.
The L150H was launched at this year's Hillhead exhibition.
Got a story? Email news@theconstructionindex.co.uk