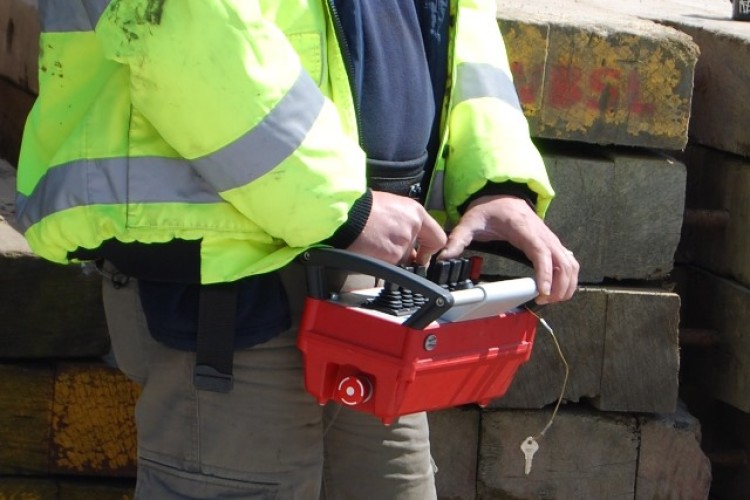 The use of remote controls on this type of crane has grown dramatically in the past 10 years.  Two out of three cranes sold now have them fitted, allowing the operator to take up the best position with the clearest view. In general, they are considered to be a significant safety benefit. However, they also introduce new hazards.
The Association of Lorry Loader Manufacturers & Importers (ALLMI) says that all operators using remote controls should be periodically re-trained and re-assessed in their use, as part of or in addition to the basic lorry loader training they receive.
ALLMI's call follows two fatal accidents in recent months involving users of remote controlled lorry loaders. ALLMI technical director Alan Johnson said both incidents are thought to be down to the operator failing to isolate the remote control while attaching or detaching the load. This led to the crane moving accidentally.
ALLMI has produced training material, available via its website (www.allmi.org). Material includes an instructional video, a leaflet for operators and supervisors and a toolbox-talk template.

"There are many ways in which industry stakeholders can assist in raising awareness of this important topic," Mr Johnson said. "We're very keen to reach as many people as possible with this information and to receive suggestions for anything else we can do to raise awareness, so we would encourage all industry stakeholders to obtain the campaign material and to provide us with their feedback in due course."   
Safety tips for operators using remote controls
Never stand between the load and a fixed object, such as the vehicle or a wall, or anywhere that an accidental movement of the lorry loader can trap or crush you. This includes never walking under the boom, whether a load is attached or not.
Never walk while operating the remote control. A popular misconception is that radio remote controls are designed to permit the operator to both walk and operate the machine at the same time. This is wrong. Operating while walking is dangerous. If you need to re-position, then isolate the controls before moving. Once you are suitably situated and standing still, make a quick all-round check before re-engaging the controls and proceeding.
Always de-activate the remote when not in use. Inadvertently catching the handset with a coat sleeve or other article when attaching or removing a load, or exiting the cab, for example, can have fatal consequences.
Got a story? Email news@theconstructionindex.co.uk