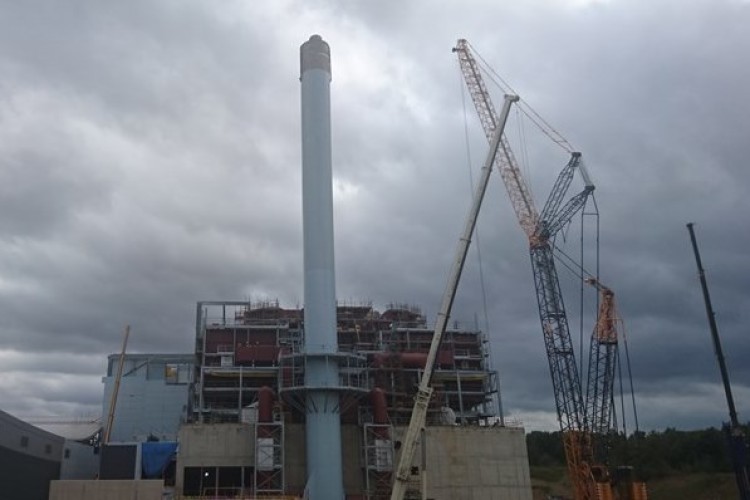 The stack is four metres in diameter and houses two flues for each boiler line. It weighs approximately 136 tonnes.
The sections were constructed by a specialist manufacturer in Denmark prior to being transported to Yorkshire and craned into place.
The treatment plant is being built by Amey for North Yorkshire County Council and City of York Council. AmeyCespa has a 25-year PFI contract from the councils to collect and treat waste.
In January 2015, Vinci Environment UK, a 50/50 subsidiary of Vinci Construction UK and Vinci Environnement of France, won the AmeyCespa contract to build the energy-from-waste unit in Allerton.
The design-build contract covers the energy-from-waste unit and related buildings. Taylor Woodrow, the civil engineering division of Vinci Construction UK, is responsible for overall site development and civil engineering for the buildings. Vinci Environnement is responsible for designing and commissioning the processes.


When operational the Allerton facility will treat domestic waste using three technologies – mechanical treatment, anaerobic digestion and energy from waste.
Amey head of construction Mark James said of the stack installation: "This is a significant milestone in our construction programme and the facility is really coming together. The stack is a key element of the energy from waste process. This allows energy to be created by burning waste at a minimum of 850oC, with the combustion process creating steam which in turn powers turbines to create electricity."
Some of the electricity created will be used at Allerton Waste Recovery Park but the majority will be exported to the National Grid; this will be enough to power the equivalent of 40,000 homes each year.
Ian Fielding, assistant director, waste management, waste and countryside services from North Yorkshire County Council, added: "I am very impressed with the good progress being made at the waste recovery park and that we're on schedule to see it open in early 2018 when it will begin to make a real difference to the way we process waste."
A previous milestone was marked in July 2016 with completion of the final boiler.
Got a story? Email news@theconstructionindex.co.uk