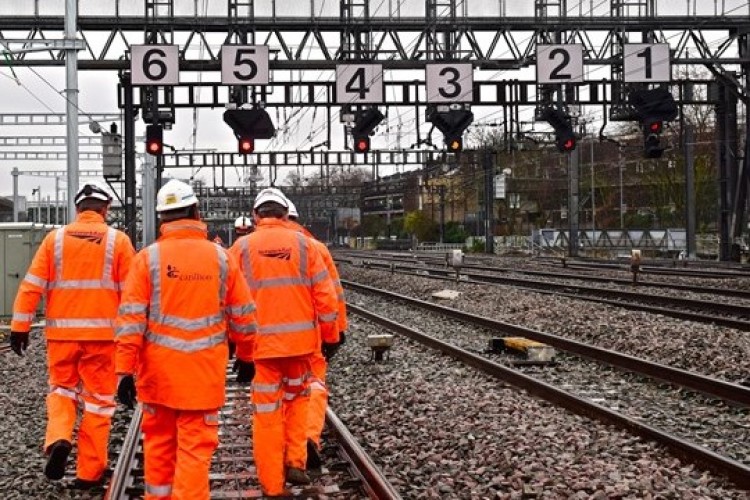 Network Rail said that the deal ensured continuity for projects around the country that Carillion was working on when it went into liquidation last month.
Network Rail contracts operated by Carillion Construction now taken on by Amey include IP Central Panel work for East Coast mainline and Midland Main Line, Crossrail (Old Oak to Paddington Area), Plain Line Track Renewals and the North West Electrification Programme.
The sale is likely to safeguard more than 700 jobs of Carillion employees and provide security for many within the supply chain.
Network Rail commercial director Matthew Steele said: "This is a positive step for the industry, ensuring the delivery of a number of major rail projects across the country whilst safeguarding an expected 700 jobs and the wider supply chain. We look forward to working with Amey to enable a smooth transition and ensure the ongoing safe working on our sites."

He added: "We do recognise that this has been a very unsettling period for the employees of Carillion and would like to thank them for the continued commitment to the delivery of these projects.  We remain focused on the transfer of remaining projects and employees to new arrangements over the coming weeks and months."
Those Carillion contracts not transferring to Amey continue to be delivered under interim arrangements agreed between Network Rail and the Official Receiver's special manager, PwC.  Longer term transition arrangements for these are still being negotiated.
Last month, it was agreed that PwC will pay Carillion employees' wages for work done on and supporting Network Rail's contracts until after Easter and many of the construction companies smaller rail suppliers were paid the arrears they were owed to ensure the continued delivery of important projects.
Amey chief executive Andy Milner said: "We are excited to be taking on these rail contracts that form a key part of Network Rail's vision for the country's modernised rail network. With a deep understanding of these operations, we are perfectly placed to become the new contractor for these projects. This will mean that our rail business will grow significantly, as we support Network Rail to deliver critical milestones. We look forward to welcoming the employees to our business, and further strengthening our relationship with Network Rail."
Got a story? Email news@theconstructionindex.co.uk