The Royal Society of British Artists holds an open submission exhibition each year. Founded in 1823, the RBA was originally set up to rival the more famous Royal Academy.
In this year's exhibition there are a number of images of construction, demolition, cranes, diggers and a gravel pit.
Arthur Lockwood RBA specialises in such imagery. "I chose to record the changes taking place in Birmingham and the Black Country: demolition of Nineteenth Century buildings and the construction of new landmarks such as Bull Ring shopping centre," he said. "I also wanted to document the metal working factories and foundries before they disappeared."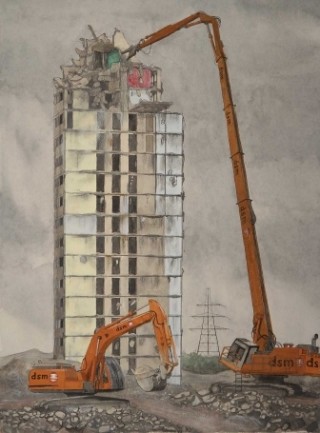 Rebecca Cains' work captures the less fashionable areas of towns and cities where she grew up. Much of her work is based at a local scrap yard.
The exhibition runs from 21st to 31st March, 10am to 5pm (closes 2pm on final day) at the Mall Galleries, The Mall, London SW1.
Normal entry price is £4, but free entry for two is offered to readers of The Construction Index. Just mention our name at the Gallery Desk.
Got a story? Email news@theconstructionindex.co.uk