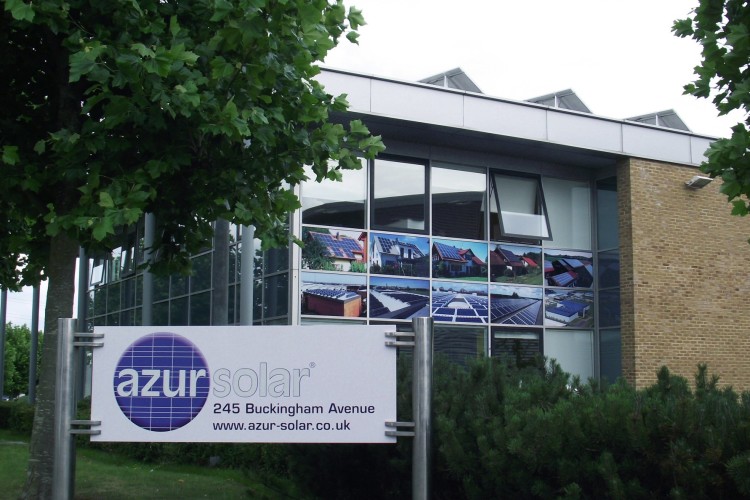 Azur Solar, already a market leading innovator and manufacturer of photovoltaic solar panels and associated components in Germany, in July installed and successfully commissioned eight major on-roof projects in the UK, collectively delivering a massive 1.8 MWp of Solar PV production, reinforcing its position as one of the UK's top solar PV companies.
Located at sites across the South East, with one also in the Midlands, this 1.8 MWp of capacity will meet the equivalent annual energy needs of over 500 homes.  The largest single on-roof installation was 883 kWp with the smallest still being over 100 kWp.  In parallel, Azur Solar is expanding its UK base of independent installers and solar PV consultants and these also accounted for a number of additional, mainly domestic, installations during the month.  
"Solar is definitely the energy of the future when it comes to clean, efficient, economic and ecologically sustainable production," stated Robert Markus Feldmann, Managing Director for Azur Solar Systems Ltd.  "The Government's Feed-In Tariff (FIT) reduction for ground-based and large commercial roof installations, effective from the 1st August, resulted in an industry rush to commission these larger projects.  However, solar PV continues to deliver excellent green credentials and with the cost of entry reducing, we are gearing up to deliver a significant number of new residential and commercial projects over the coming months."

"Customer trust and after sales service were key factors in Azur Solar being awarded these prestigious contracts as was our ability to simultaneously deliver multiple projects.  Customers in both the commercial and domestic sectors are becoming far more knowledgeable and discerning about solar PV and are demanding technologically advanced, quality products at affordable prices.  For example, our unique 2P coated modules, which are virtually free of degradation and produce up to 15% more lifetime power, are proving particularly popular, despite their slightly higher entry price.  It is overall performance, reliability, service and support, not simply cost, that is important, which is why we continuing to invest in these aspects of our business."
Azur Solar has delivered tens of thousands of its highly reliable and efficient solar power generation systems to customers across Europe and worldwide and delivers and installs turnkey solar PV systems on commercial and residential roofs throughout the Thames Valley and across the UK.
Got a story? Email news@theconstructionindex.co.uk