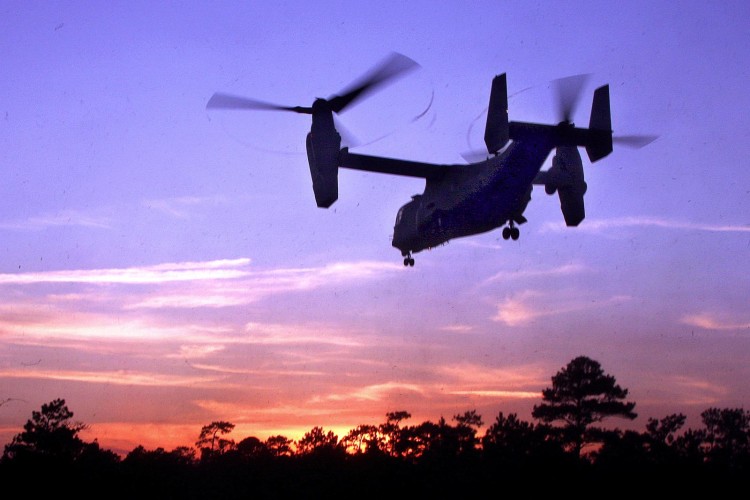 The maintenance hangars at the Camp Pendleton Marine Corps Air Station will each accommodate six MV-22 Osprey tiltrotor military aircraft. The Osprey is the primary assault support aircraft for the US Marine Corps. 
The project scope included the design and construction of a new, 11,470m2 two-bay hangar with specialist maintenance shops, administration offices and training/mission planning accommodation. Work also included the demolition of an existing hangar. Design services were provided by KMA Architecture.
The project was completed in 21 months and was designed to obtain a LEED® Silver rating from the United States Green Building Council.  Sustainable features include a photovoltaic parking structure with solar panels that will provide 30% of the energy to the facility, skylights in hangar bays and a cool roof system that requires less energy consumption during the summer.


 The work included the erection of two 6m-wide by 104m-long steel truss sections, as well as the supervision of over 50 trade partners that collectively logged 200,000 man hours with zero lost time incidents.  
"To achieve our goal of zero lost time incidents on this demanding project required a laser-like focus on our Zero Harm culture in addition to exceptionally thorough planning and preparation," said Dan Chandler, project superintendent at Balfour Beatty Construction. The challenges required detailed safety logistics plans to address potential hazards, including demolition of the previous hangar. Culminating with the two-day truss erection, the team bolted four 24m sections together and used two cranes in unison to move each truss into position. "An effort this complex required tight integration among everyone involved and we're very proud that we had the opportunity to deliver this project for the US Marine Corps," he added.
 Luis Adrianzen, Marine Corps Air Station public works division project leader, gave the team high marks for the truss erection. "The project team remained diligent throughout the process to ensure that every individual involved was included in the planning process – from the manufacturing to the deliveries and the erection process. All of the pre-planning paved the way for a successful and flawless product with zero safety issues. The event was impressive in size and magnitude, while the process went seamlessly, with little to no intrusion on the daily operations."
Got a story? Email news@theconstructionindex.co.uk