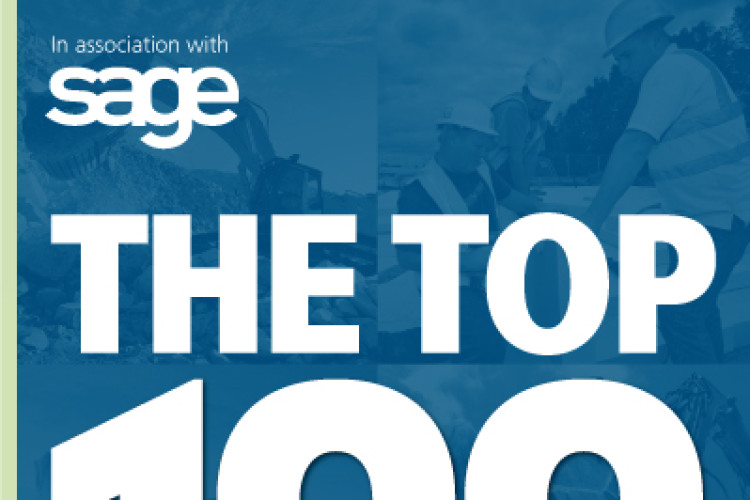 In contrast to the preceding three years, the last 12 months have not been so bad for construction. Big hitters like Rok and Connaught disappeared during 2010 and 2011. Doyle Group is perhaps the biggest casualty of 2012.
Revenue of the top 100 is – in total – up a few percentage points on the preceding couple of years. Profit is healthier.
So does this mean that construction has ridden out the worst of the storm, and the industry is now at a more sustainable size? Probably not, unfortunately.
Top 100 Construction Companies 2012 league table
For instance, the UK's biggest construction group, Balfour Beatty, has sustained growth on the back of its impressive expansion abroad. But in the UK it has cut 650 staff from its 12,000-strong workforce this year, and closed 35 offices.
The contractor is recognising that the size of the pie is shrinking, particularly in what it calls 'the post-Olympics world'. "The UK business has been focusing on replenishing the order book with more varied, smaller, often private sector projects," a statement from the firm said recently. "Our UK order book and revenue have declined by 3% and 2% respectively in the first half, in a marketplace that has continued to shrink."
In this context, the decision of Carillion to descope its construction business two years ago looks wise. The firm, which now generates around three-quarters of its revenue from support services, decided to reduce the size of its construction division from £1.8bn to £1.2bn, and is on target to achieve that this year.
Carillion has managed to avoid the lowest-price hurly burly in the small project end of the market – which many of its competitors have been forced to dive into – which partly explains its healthy 3.3% margin, better than any of the top six.
Laing O'Rourke is still coming back down to earth after a heady period of growth during the middle part of the last decade, when it achieved national profile after being selected as delivery partner for the London Olympics.
The year to 31 March 2012 saw Laing O'Rourke grow its revenues by 7% to £3,545m but pre-tax profit slid 22% to a somewhat modest £23.4m.
Interserve has maintained growth as a group, despite construction revenues continuing to slide, now standing at £731m, down over £100m on two years ago.
Morgan Sindall and Kier have both seen their revenue dwindle since the start of the economic slowdown, but the last three years suggest a recovery or stabilisation at least.
The fattest margins in the top 10 belong to Mitie – a whopping 4.4% – reflecting the steadier nature of support services. Under glamorous chief executive Ruby McGregor-Smith, Mitie has grown into one of the biggest private sector employers in the country, with 64,000 staff, demonstrating the continuing appetite for outsourcing in both private and public sectors.
That the healthiest margins in the top 10 all belonged to companies dominated by support services may give food for thought to bosses of firms where construction has a large share of turnover.
Most of the biggest firms now seem to be growing again, with 80% of the top 25 experiencing turnover growth during the past year.
Worthy of mention are: ISG, which grew turnover 23% to £1,195.6m; Wates, whose revenue increased 13% to £1,117m; and Keepmoat, which can now claim membership of the £1bn turnover club, following its merger with Apollo, which saw the latter's name disappear.
Among the strongest performers further down the table, Mears continues its seemingly inexorable rise, with revenue up another 12% to £589m and profit increasing a fifth to £20.4m.
Imtech grew turnover by more than half, taking it past the half a billion mark for the first time, and delivered an even more impressive improvement in profit of over 150% to £18.4m.
McLaren's emergence has gathered pace, with a dramatic 75% surge in turnover to £266.6m, taking it into the top 50. Profit was up more than half to £4.1m.
Buckingham is another business on the rise. It makes its top 100 debut after a 79% increase in revenue to £167.4m.
Of the strugglers, Enterprise still has the biggest splash of red ink on the top 100 table, and although it has stemmed the losses, the £44m posted this year is still sizeable. Some £24.8m of this stems from the rail business, which it has since closed.
Miller is also still on the casualty list, with a loss of £41.6m last year, but will be hoping its worst days are now passed after restructuring its existing debt facilities and securing a £160m equity injection from investment firm GSO last February.
Morrison Facilities Services, the social housing arm of the Anglia Water Group, surprisingly posted a £15.3m deficit, after a healthy-looking £19.8m profit the year before.
Other firms where the alarm bells may be ringing include: NG Bailey, where a £19.9m profit has turned into a £4.4m loss, on reduced turnover; Ardmore, which grew turnover by a third, but dived into the red to the tune of £6.3m; Patton, where dwindling turnover was accompanied by a £8.9m loss; and Headcrown, whose £9.9m loss represents a sizeable eight per cent of turnover.
While the TCi top 100 as a whole may look stronger, there is still evidence of plenty of pain around the market.
The Construction Index Top 100 Construction Companies 2012 league table
Revenue of the six biggest construction companies since 2009
| | | | | |
| --- | --- | --- | --- | --- |
| | 2012 | 2011 | 2010 | 2009 |
| Balfour Beatty | 11,035.0 | 10,473.0 | 10339.0 | 9,486 |
| Carillion | 5,051.2 | 5,139.0 | 5629.3 | 5,206 |
| Laing O'Rourke | 3,544.6 | 3,313.0 | 3526.1 | 3,603 |
| Interserve | 2,319.6 | 2,315.4 | 1906.8 | 1,800 |
| Morgan Sindall | 2,226.6 | 2,101.9 | 2213.5 | 2,548 |
| Kier | 2,178.8 | 2,098.7 | 2146.0 | 2,374 |
Profit of the six biggest construction companies since 2009
| | | | | |
| --- | --- | --- | --- | --- |
| | 2012 | 2011 | 2010 | 2009 |
| Balfour Beatty | 246 | 201.0 | 267.0 | 270 |
| Carillion | 142.8 | 167.9 | 135.9 | 116 |
| Laing O'Rourke | 23.4 | 29.9 | 50.0 | 81.2 |
| Interserve | 67.1 | 64.1 | 89.2 | 79.9 |
| Morgan Sindall | 40.0 | 40.7 | 44.7 | 62.3 |
| Kier | 65.5 | 57.7 | 24.8 | 63.4 |
Got a story? Email news@theconstructionindex.co.uk