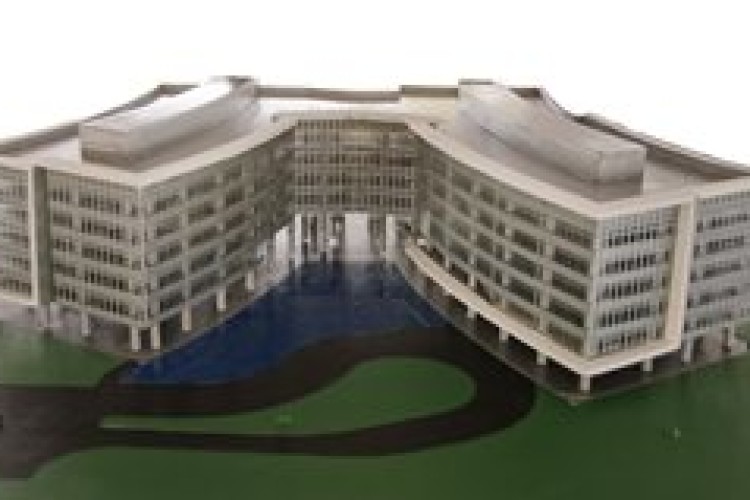 Balfour Beatty's partners in the project are W&J Construction Corporation and MW Williams Construction Group. There had been 26 teams vying for the job.
The six-storey, 464,000-square-foot Harris Technology Center has been designed by Melbourne architect BRPH and is part of an initiative designed to foster engineering innovation. Harris will relocate more than 1,200 employees from existing buildings to the new facility. Building of the new facility is expected to create nearly 300 construction jobs in the local community.
Florida Governor Rick Scott and Harris Corporation president and CEO William Brown joined other state and local dignitaries to kick off construction on the facility that will become the centrepiece for some of the company's most advanced engineering efforts.
A scale model of the building proved to be of great interest at the ground-breaking event. It was constructed by Balfour Beatty Construction superintendent Joe Smith, who hand-crafted it in his home woodshop during the procurement phase. The model, which was used in the company's presentation, was built in stackable sections to give the Harris selection committee a better understanding of the progress proposed for the construction schedule.

Communications and information technology company Harris is one of the largest public companies headquartered in Florida. The company has more than 15,000 employees worldwide, including 6,500 employees in Central Florida. It has 20 operations in seven locations throughout Florida, occupying more than 3.5 million square feet of office and manufacturing space. 
"Balfour Beatty is thrilled to play a part in building this prestigious project," said Sean DeMartino, division president of Balfour Beatty Construction in Florida. "We look forward to a long and successful partnership with Harris Corporation as they re-define their Palm Bay campus."
The initial design and approval phase has already been completed. Construction is scheduled to begin in January 2013 and to be completed at the end of 2014.
Got a story? Email news@theconstructionindex.co.uk