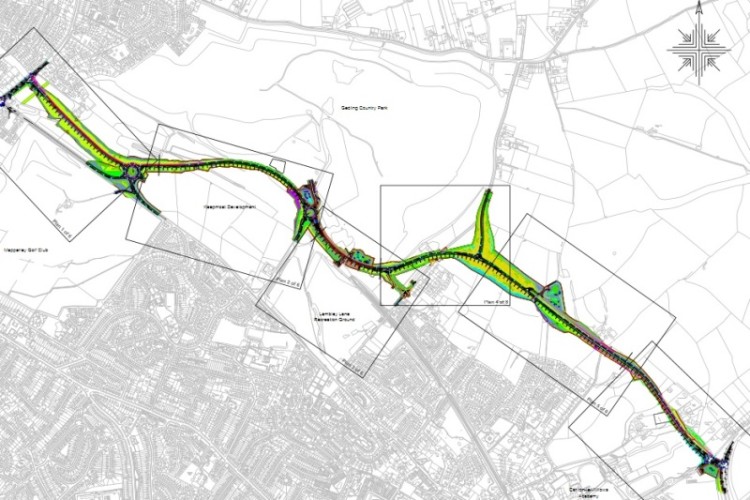 The 3.8km single carriageway road will provide a link between the B684 Mapperley Plains and the A612 Trent Valley Road/Nottingham Road, running through the old Gedling Colliery site to serve Keepmoat's £140m Chase Farm housing estate.
Balfour Beatty was appointed to the project two years ago on an early contractor involvement basis to develop the scheme and confirmed as main contractor in July 2019.
Design and construction costs have been put at £33.9m and total project costs are £40.1m (at 2016 prices). Housing developer Keepmoat is contributing £17m to the project.
Nottinghamshire County Council has been safeguarding proposals for a Gedling village bypass for more than 50 years, and GAR forms part of the proposals for the A612 Nottingham eastern outer loop road – the rest of which has already been completed by the council.
Completion is expected in summer 2021 after an 18-month construction programme.
Councillor John Cottee, chairman of Nottinghamshire County Council's communities and place committee, said: "We are delighted to mark the start of a new decade with the Gedling Access Road construction. Not only will the Gedling Access Road significantly reduce traffic through Gedling Village, but it will also link communities in the area to wider Nottinghamshire and Nottingham City Centre, while progressing the sustainable redevelopment of the former Gedling Colliery/Chase Farm site.  

"This is just one of our commitments to new highways projects and we will continue to work closely with our partner agencies throughout the construction period to ensure that the project delivers benefits to the local community and the county as a whole."
Advance works
In preparation for the construction of the new Gedling access road, VIA East Midlands was tasked with diverting a number of open watercourses that lay in its path.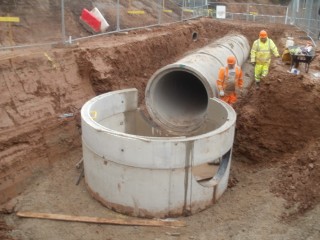 Given the anticipated volume of water involved, large pipe diameters and a large central chamber were proposed to manage the flow and volume. Designers proposed that pipe diameters of 900mm and 1400mm were required, flowing into a central chamber of 2700mm diameter.
Keyline Civils & Drainage in Nottingham recommended Stanton Bonna Concrete to provide a bespoke solution, working with drawings provided.
To facilitate the large diameter pipe entries into the 2700mm chamber, a bespoke three-part base for the chamber was made, with partial apertures cut into two of the sections. This enabled the team to construct the chamber before removing the centre section on site, retaining the structural integrity of the 2700mm ring while at the same time allowing for multiple 1400mm and 900mm pipe entries. 
Got a story? Email news@theconstructionindex.co.uk