One Kemble Street, also knowns as Space House, is a distinctive Grade II listed brutalist building set across two interconnected buildings.
Designed by Richard Seifert & Partners, it was completed in 1968 and was first occupied by the Civil Aviation Authority.
The project will extensively refurbish both buildings to create 255,000 sq ft of office space.
Squire & Partners has led the redesign of the buildings, which will include the construction of two new floors of office accommodation on top of the existing 15 storey tower, a top floor extension to the connected eight-storey block and reconfiguration of the internal cores and basement levels.

New public, retail and event spaces will also be created for the basement and ground floor levels. Enabling works are under way and main construction work is scheduled to begin in April 2022, with a planned completion for summer 2023.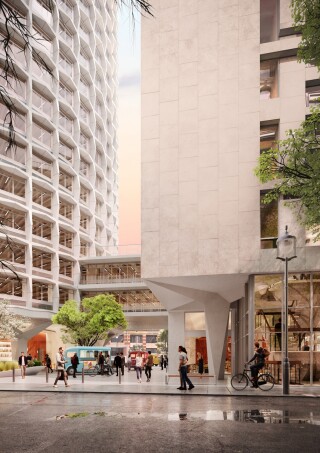 Seaforth development director, Chris Railston-Brown said: "Bam Construction and the consultant team have worked tirelessly to ensure the reinvented Space House will turn from vision to reality. This is a great step forward for the central London office market and reinforces our commitment to delivering exciting new spaces and opportunities. Space House will offer market leading and sustainable office space in Central London, and we are looking forward to working with the Bam Construction team to bring Space House to life."
Bam Construction's London regional director, Rod Stiles, said: "We will ensure that quality and sustainability is at the heart of this scheme that will establish Space House as the first-Grade II listed refurbishment to be awarded a BREEAM Outstanding certification."
Got a story? Email news@theconstructionindex.co.uk