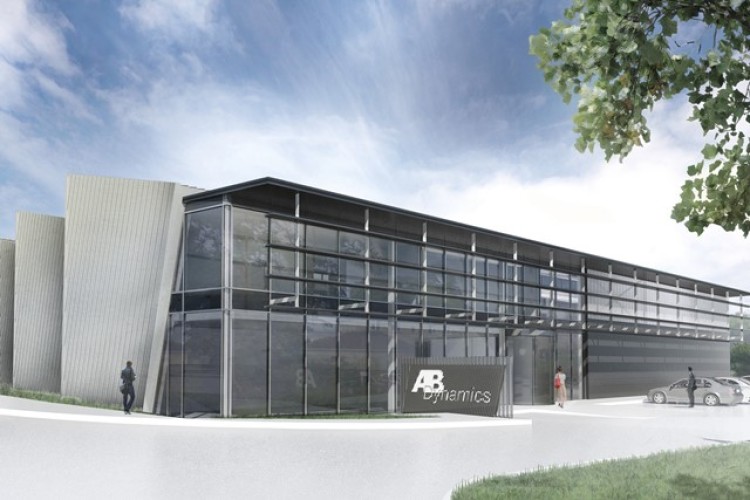 The factory is being built for AB Dynamics, which supplies testing systems to the motor industry for research & development and for production quality control.
The scheme, designed by Bath-based SRA Architects, comprises the design and construction of a new engineering and workshop facility plus two storey office. On a greenfield site, BAM will erect a steel-framed new factory and associated offices including a bespoke fit-out for the specialist nature of the company's automotive operations. External works include hard & soft landscaping, service yard, car parking, secure fencing and gates with a tree and shrub planting scheme.
The new building is oriented to minimise solar heat gain and the roof is studded north-facing skylights. This maximises natural light on the manufacturing ground floor and in the first floor offices.
AB Dynamics was founded by Tony Best in 1982. It supplied the first steering robot for quantitative vehicle testing on the track in 1998, and has now supplied more than 600 driving robot systems around the world.
It was also an early pioneer of the use of an inertial GPS motion pack to control the path of a vehicle in 2001 and in 2007 was one of the first manufacturers to sell a system for testing driverless vehicles.

BAM's appointment is the latest in a succession of highly complex buildings for customers in the technology field. It recently created the new Airedale International Cooling Systems HQ in Rawdon, Leeds, and a Control & Data Systems building (a Rolls-Royce subsidiary) in Birmingham.  It is currently building two manufacturing and innovation schemes with Unilever and the University of Liverpool as well as educational buildings such as Leeds Manufacturing UTC.
BAM construction director Neil Dorrington said: "This is a fascinating scheme that requires our technical experience and a close working partnership with our client. It also shows our versatility in our markets, sitting well alongside our other technically challenging buildings like the Living Systems Institute for Exeter University."
BAM is currently engaging in several weeks of enabling works while contracts are being finalised. The new building is scheduled to hand over in autumn 2017.
Mann Williams is the structural engineer and M&E is provided by Hulley & Kirkwood. Rowney Sharman is both quantity surveyor and project manager.
Got a story? Email news@theconstructionindex.co.uk