Based on the Easter Bush Campus, the £32m build for the innovation centre and campus hub will provide research labs and offices to extend commercial research opportunities on the campus. 
Barr Construction begins work this month and is expected to complete by December 2016.
The new building will be home to the International Centre for Livestock Improvement and Midlothian Science Outreach Centre.
This will be one of the final projects delivered under the Barr Construction banner following the recent merger with McLaughlin & Harvey. McLaughlin & Harvey acquired Barr Holdings in 2007 but began to drop the Barr brand in January.
New laboratories will have 285 workstations with shared support areas including tissue culture rooms, incubator space, cold rooms, dark rooms, and changing facilities.
Next to the laboratories will be offices and and meeting rooms for more than 380 scientists; extending and promoting the collaboration between the UK Bioscience research base and The Roslin Institute, Royal Dick School of Veterinary Studies and Scotland's Rural College (SRUC), who are already based on the campus.
Barr construction director Paul Griffen said: "The new building of the Easter Bush Innovation Centre will be an iconic gateway building within the Easter Bush Campus for the University of Edinburgh, and will act as a visual indicator of the university's commitment to research excellence."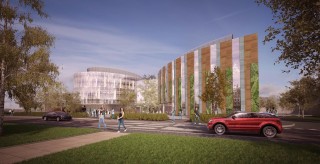 Got a story? Email news@theconstructionindex.co.uk