London-based Synchro Software has developed 4D construction modelling software for scheduling and project management. The software uses time as the fourth dimension to synchronise BIM processes with work packaging, immersive visualisation and 'constructioneering'. Users include BAM, Skanska and Larsen & Toubro.
Bentley said that construction project management in 4D allows the benefits of BIM to extend throughout infrastructure project delivery and the asset lifecycles.  
The acquisition broadens Bentley's ProjectWise construction range, which already includes ConstructSim for 4D construction modelling in project delivery of industrial plants.
For London's Crossrail, Synchro developed a way of applying Bentley Systems' iModel work packaging to complete the reach of its BIM application portfolio and its common data environment (CDE).
Malcolm Taylor, head of technical information, Crossrail, said: "Using specialist software from Bentley Systems and Synchro, our project schedule could be linked to the 3D information to produce 4D models that could show the progress of design and installation at any particular point in time. Using 4D models to plan helped speed up the project teams' understanding of what we needed to do and when. They could also tease out conflicts that were not normally apparent from regular Gantt charts and drawings. Using the 4D model for construction progress also manages payment expectations as it allows teams to readily agree on what's completed and accepted—as well as producing an excellent as-built record for the future maintainer. For me, the news of Bentley Systems' acquisition of Synchro Software is excellent, and will help reinforce how 4D can be used to improve construction management."

Synchro's 2018 4D Digital Construction Conference in Amsterdam brought together representatives from 18 countries and included presentations by Royal BAM Group, Mortenson Construction, Robins & Morton, Shanghai Construction No 4 Group, Skanska UK and Larsen & Toubro. They spoke about the benefits they have achieved through applying 4D construction modelling with Synchro.
"I'm very excited about what Synchro brings to Bentley's capabilities for comprehensive project delivery, not only in terms of technology, but also by virtue of the proven construction expertise of the Synchro team, led by the vision and advocacy of Tom Dengenis," said Stephen Jolley, vice president of construction for Bentley.
Tom Dengenis, CEO of Synchro Software, added: "This combination reflects my conviction about what's imperative for finally driving infrastructure construction substantially forward. At Synchro, we accomplished the breakthrough of 4D construction modelling software many years ago, but we have wanted to advance the market faster than our own continuous growth. With my 40+ Synchro colleagues in the UK, Boston, San Francisco, Shanghai, and Moscow, I look forward to working more directly with our new Bentley colleagues, thanks to our now so much greater combined power and commitment, to accelerate the global industry in going digital."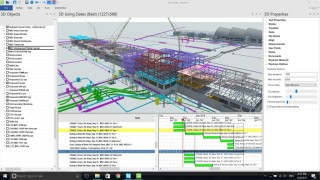 Got a story? Email news@theconstructionindex.co.uk