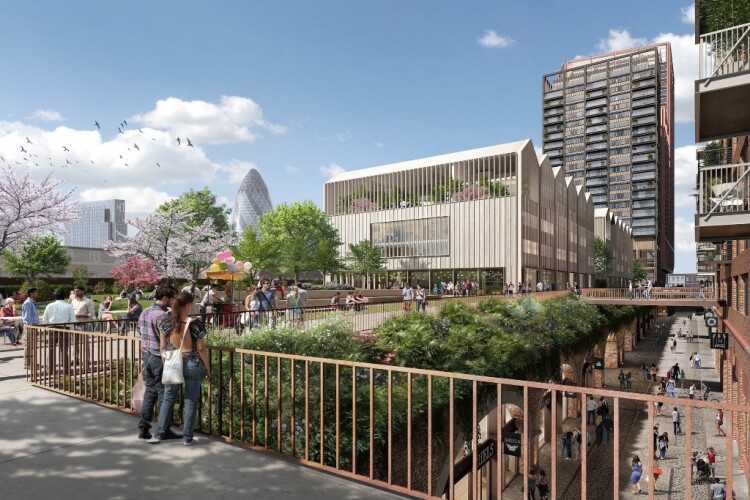 Bishopsgate Goodsyard Regeneration Ltd, a 50:50 joint venture between Ballymore and Hammerson, aims to start construction in 2024 on a 1.7 million sq ft mixed-use development. The plans show 500 news homes and 1.4 million sq ft of workspace across the 10-acre site.
There will also be a public park on top of restored historic railway arches, providing a series of connected gardens, terraces and walkways.
The Section 106 agreement formalises the planning consent, received in late 2020, for the Bishopsgate site and was approved by the London Borough of Tower Hamlets, the London Borough of Hackney, Network Rail, Transport for London (TfL) and the Greater London Authority (GLA). It represents the final stages of the planning process and allows the developers to begin the next phase of development, which includes detailed design, site enabling works and working with Network Rail on a delivery and phasing plan.
Ballymore managing director John Mulryan said: "Bishopsgate Goodsyard is one of the most exciting redevelopment sites in London today. It will bring vitality to the district, create thousands of new jobs and significantly boost the local economy.

"We bought this derelict site almost 20 years ago, having lain idle since 1964.  Over several years we have developed strong relationships with the local people, businesses and councils, the GLA and transport bodies to ensure that the design aligns with their future aspirations for the neighbourhood."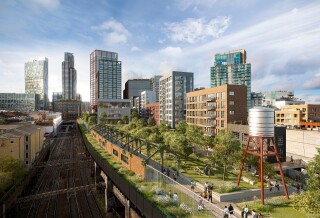 Hammerson's Harry Badham – whose job title is 'chief development and asset repositioning officer' – said: "This site is regarded as one of the last undeveloped sites of significant scale in central London with the potential to lead the way in terms of placemaking and holistic urban regeneration. The completion of this stage of planning and our commitment to bring forward the development of this multi-use neighbourhood reflects our joint ambitions."
Got a story? Email news@theconstructionindex.co.uk