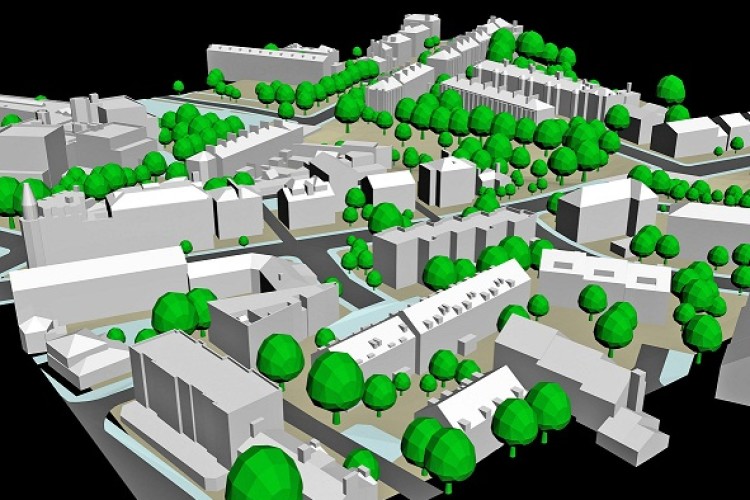 Working for Solum Regeneration, a partnership between Network Rail and Kier Property, Pozzoni has already completed the design of a mixed use scheme at Haywards Heath including supermarket, hotel and improvements to the station facilities and a project near Tufnell Park tube station for Network Rail.
The 3D models, created by aerial mapping company Bluesky, provide instant 3D context for the regeneration designs and are delivered ready to use in Pozzoni's building design software. 
Chris Slamon, Partner at Pozzoni LLP commented, "The Bluesky models allow us to visualise and communicate our designs in real world 3D. They are easy to use and easy to interpret, essential when presenting potentially complicated designs to our customers and in turn to their customers."

The Bluesky models were supplied to Pozzoni ready for use in their Building Information Modelling software Autodesk Revit. The highly accurate and detailed 3D model, derived from the most up to date stereo aerial photography, includes the surface of the earth or terrain together with all buildings and trees in the urban centre. Using Revit Pozzoni can model new designs in order to visualise, communicate and assess their impact on the surrounding environment.
Slamon continued, "We have used 3D models from Bluesky on a number of projects and have always found the service first class and their pricing highly competitive."
Bluesky Building Models are created from the most up to date, high-resolution, stereo aerial photography. Accurate to +/- 25cm in most urban areas the Bluesky city models also include road detail and an underlying Digital Terrain Map (DTM) to place the urban representation in its true world context. The standard Bluesky 3D city model can be enhanced with the addition of vertical, oblique or ground photography to deliver additional detail and real world visual impact.
Got a story? Email news@theconstructionindex.co.uk