The T35105, T35105L and T36120SL replace the T35100 to the T35120SL. The three are part of the new generation of telescopic handlers from Bobcat and incorporate many of the improvements already seen in the TL360/TL470 6m-7m and T40140/T40180 14m-18m models launched over the last 18 months.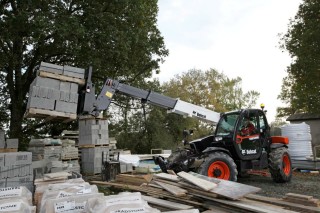 Features include the new panoramic cab, which has a large parabolic windscreen providing panoramic visibility especially when handling loads at height.  In the cab, there is a new dashboard with digital display and ergonomic controls including a joystick with integrated forward/reverse control for improved productivity and safety.
The electronics in the new telescopic handlers are based on can bus technology and are designed to allow management and monitoring of the main components for easier maintenance.  The hydraulics feature an active diagnostic system to ensures that the machine would always remain within safe limits in case of hydraulic failure.
The three new models are available in versions for markets with non-regulated or regulated emissions.

The new telescopic handlers have a maximum travel speed of 30km/h, complemented by an inching function for precise positioning.  The T36120SL incorporates both stabilisers and a frame-levelling system while the T35105L features the frame-levelling system.
The new telescopic handlers feature an auxiliary hydraulic line and are supplied with a 1.12m-wide foldable pallet forks carriage with backrest and 1200mm pallet forks as standard.  An key safety feature is the aggravating movement arrester (AMA) system which cuts off all aggravating movements to ensure safe use within the working envelope, whatever the attachment used and the type of load (palletised or suspended) being lifted.
The T35105 and T35105L telescopic handlers both have a maximum lift capacity of 3.5t. The working envelope has a maximum lift height of 10.29m and a maximum forward reach of 6.88m. The T36120SL has a maximum lift capacity of 3.6t. Its working envelope has a maximum lift height of 11.87m and a maximum forward reach of 8.20m.
As well as the high visibility curved front window, the new ROPS/FOPS protected cab on the three models has a larger back window, increasing sight to the rear, and a cab door with windows above and below the handlebar for optimum visibility when manoeuvring close to walls or other obstacles.
Got a story? Email news@theconstructionindex.co.uk