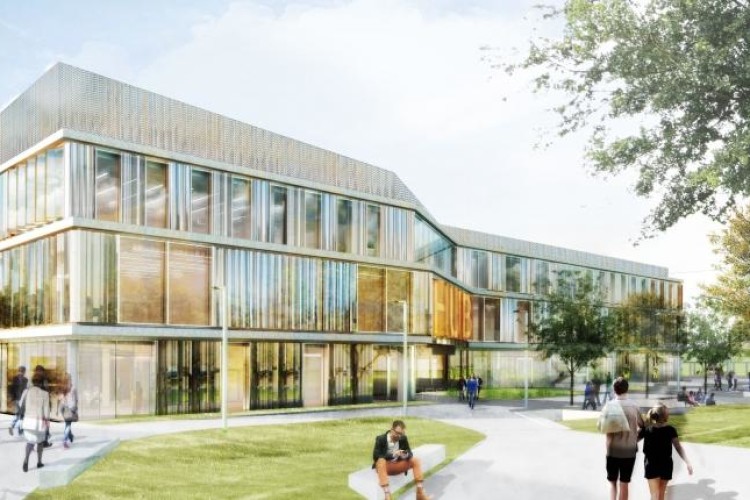 The contract is for the Cavendish III physics laboratory and a neighbouring facilities hub. Architect and lead consultant for the buildings Jestico & Whiles was supported by Jacobs as technical architect for the cleanrooms and laboratories.
Cavendish III, which will be built on the West Cambridge campus, will bring the physics department's large number of research groups together under one roof to encourage collaboration.
Bouygues was brought in last year to help plan the project (link opens in new tab). It worked alongside the university's project manager Currie & Brown, as well as cost consultant Aecom to agree the contract, and will continue to work with NBBJ and BDP to complete the technical design details through to the project's completion. Ramboll is the civil and structural engineer and Hoare Lea is the M&E engineer. Bouygues Energies & Services will be in charge of the specialist mechanical & electrical works.
Professor Andy Parker, head of the Cavendish Laboratory at the University of Cambridge, said: "This is an exciting step forward for the new Cavendish Laboratory, which will serve as a home for physics research at Cambridge as well as a first-rate facility for the UK as a whole – much of the specialised research equipment in the new building will be made available to other institutions. This world-class facility will meet the educational needs of future generations of students much better than is possible at our existing site and its design also facilitates public events, enabling us to continue our extensive programme of work with schools and the wider public."


Fabienne Viala, chair of Bouygues UK, said: "Having collaborated with the university and wider project team to incorporate the stringent criteria required of a physics laboratory where internationally significant research will take place, we are pleased to be bringing this major project to life."
The Cavendish III – which will have a gross internal area of 33,000m2 will house a range of laboratories, offices, clean rooms, workshops and multiple lecture theatres. The basement area will incorporate specialist acoustic and vibration treatments to achieve the stringent control criteria necessary for operating equipment highly sensitive to vibration. There are also challenging criteria to be met in relation to temperature and humidity control and electromagnetic interference (EMI) protection.
The independent Shared Facilities Hub, with a net area of approximately 4,700m2, will provide catering, collaborative teaching, meeting, study and library spaces to the campus. The hub will bring academic, support and research staff together with the undergraduate and PhD communities.
Both buildings have been designed to achieve a BREEAM Excellent rating.
Got a story? Email news@theconstructionindex.co.uk