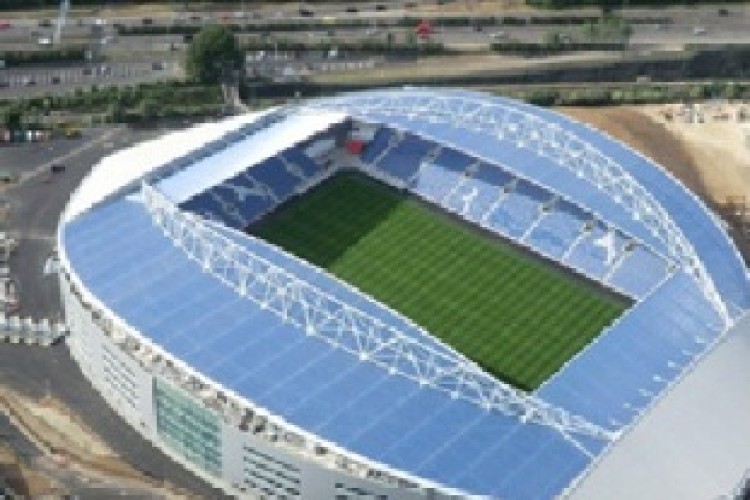 The American Express Community Stadium, Brighton & Hove Albion's new football ground, is one of four winners in this year's Structural Steel Design Awards. Also chosen were the Marks & Spencer distribution facility in Bradford; Cannon Place, London; and Antony Gormley's 26m-high 'Exposure' sculpture in the Netherlands.
The awards, now in their 43rd year, recognise excellence in structural and architectural design with the use of steel. Judges selected the four winners from a shortlist of 18.
Judges' chairman David Lazenby said: "The old saying 'when the going gets tough, the tough get going' is well illustrated by the entries for this year's Structural Steel Design Awards. The skill, imagination and determination of these project teams is remarkable, at a time when the steelwork industry has inevitably been affected by the current economic climate."
Commendations were also awarded to five structures: The St Botolph Building, London; ExCeL Phase 2; River Suir Bridge, Waterford; The Rose Bowl, Southampton; and The Hauser Forum, Cambridge.
Certificates of Merit went to the New Cross Gate Flyover, East London Line and the 2010 Festival of Speed Sculpture, Goodwood. 

The winners 
American Express Community Stadium, Brighton
Judges comment: This provides a long-awaited home for Brighton and Hove Albion, with community facilities. A large structure, with curving roof and main trusses, sits comfortably into the rolling South Downs.  The blue translucent roof shows off the well executed roof steelwork.  A well conceived and executed steelwork project, demonstrating close and effective cooperation in the team, bringing success for client and public.
Marks & Spencer Distribution Facility, ProLogis Park, Bradford
Judges comment: This state-of-the-art warehouse and distribution centre, meticulously planned and designed, was erected in 12 weeks. The exterior conceals the sophistication of the engineering design, fabrication and erection for economy and speed.  The extremely slender columns, at wide spacing, soar upwards to support a very light curved roof, avoiding valley drainage. Rooflights allow daylight to fill the cathedral-like space. The steelwork is outstandingly light, and may well become a benchmark for such projects. 
Cannon Place, Cannon Street Station, London
Judges comment: This City site has a busy rail terminus, an Underground station and extensive archaeology. The structural design has only four principal locations for foundations and supports. The facade structure is loadbearing, contributing to the support of the upper floors, onto four massive trunnion columns expressed externally. The structural concept was heroic, the appearance is striking, and the site constraints were remarkable. A huge challenge, outstandingly well answered with steelwork.
Exposure, Lelystad (Netherlands)
Judges comment: A remarkable structural steelwork sculpture inspired by the artist's own crouching body. The immensely complex arrangement of hundreds of galvanised angle sections, precisely as required by the artist and structural designer, was fabricated in modules for transport and erection.  The challenge facing the steelwork contractor was enormous. This exciting work became a 'labour of love' for the whole team, who have achieved a high profile tour-de-force.
Got a story? Email news@theconstructionindex.co.uk