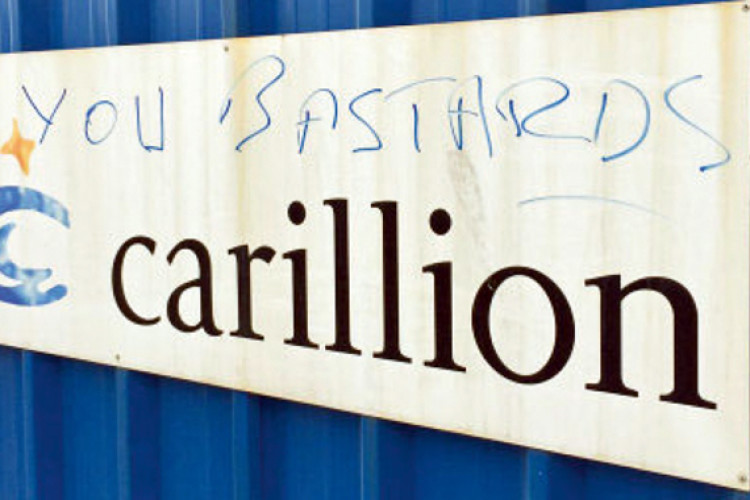 Ahead of the launch of its final report of their inquiry into the collapse of Carillion this week, the House of Commons work & pensions and business committees have published evidence from Santander, the bank which operated Carillion's early payment facility.
Despite being signatories to the Prompt Payment Code, Carillion has a reputation for late payment of suppliers. It imposed standard payment terms of 120 days on its suppliers unless they signed up to the early payment facility (EPF). The EPF – also known as reverse factoring and supply chain financing – required suppliers to settle for a discounted payment.
Two major credit ratings agencies, Moody's and Standard & Poor's, have claimed that Carillion's accounting for its EPF concealed its true level of borrowing from financial creditors.  They argue that the EPF structure meant Carillion had a financial liability to the banks that should have been presented in the annual account as "borrowing". Instead Carillion choose to present these as liabilities to "other creditors". Moody's claim that as much as £498m was misclassified as a result.
Carillion's financial statements did not highlight the EPF, but some analysts spotted it.  Carillion's board minutes in April 2015 refer to "disappointing" analysis by UBS that had factored both the pension deficit and the EPF in Carillion's total debt position. The May 2015 minutes state that shorting of Carillion's shares was up significantly and that the "bulk had followed the UBS note in March".

Santander finally withdrew the discounted early payment facility in December 2017 as Carillion teetered. Santander told the MPs how its confidence in Carillion's financial position had become undermined. It had provided new bridging finance for a restructuring, but there was little progress being made with the restructuring plan.
The bank said that its "outstanding exposure to Carillion in relation to the invoices purchased from suppliers under the programme is £91m" – this amount is "separate from Santander's committed exposures to Carillion for which we have taken significant additional bad debt provisions."
Frank Field MP, chair of the work & pensions committee, said: "Carillion displayed utter contempt for its suppliers, many of them the small businesses that are the lifeblood of the UK's economy. The company used its suppliers as a line of credit to shore up its fragile balance sheet, then in another of its accounting tricks 'reclassified' this borrowing to hide the true extent of its massive debt. This knocks down for good the stance of the Carillion board that whingeing and blaming others can be any defence."
Rachel Reeves, chair of the business, enterprise and industrial strategy (BEIS) committee, said: "The collapse of Carillion left small businesses and subcontractors out of pocket with many left unpaid for months and facing ruin. It's a bitter irony that while Carillion were fully signed up to the government's Prompt Payment Code, they were making their suppliers hang on for 120 days or more to be paid. Carillion's early payment facility ripped off their suppliers, forcing them to accept a cut in what they were owed, and was a blatant attempt by Carillion management to prop up their failing business model."
Got a story? Email news@theconstructionindex.co.uk