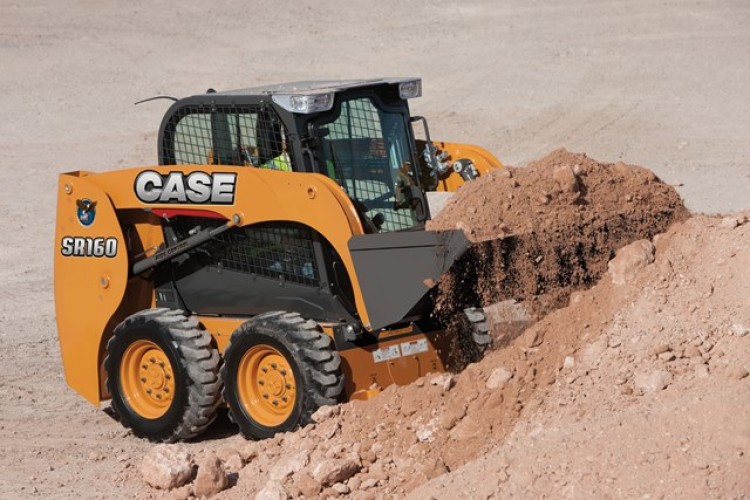 There are seven skid steers and three tracked loaders in the range. Five of the skid steers and two of the tracked loaders now have Stage IIIB compliant engines. The others meet Stage IIIA.
Among the changes, the SR160 replaces the SR150, with a larger and cleaner engine and up to 15% more power. The 60hp turbocharged Stage IIIB engine has been installed without any impact on the machine's compact dimensions.
The smallest SR130 is now powered by a 2.2-litre 49hp Stage IIIA engine that uses internal cooled exhaust gas recirculation (CEGR) without the need of a bolted-on particulate filter.
The mid-range SV185 and SR175 skid steers have Stage IIIB engines delivering 60hp and 67hp respectively. However through the use of a turbocharger and high-powered common rail fuel injection with electronic control, there is no requirement for regeneration on these engines, Case says. Compliance is achieved by use of a diesel oxidation catalyst (DOC) system.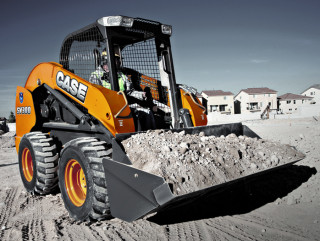 The SR200 and TR270 machines that have a 74hp turbocharged engine can meet Stage IIIA without regeneration. The most powerful SR250, SV300 (pictured above), TR320 (pictured below) and TV380 models all use a 90hp turbocharged engine with multiple injection high pressure common rail, plus an electronically-controlled wastegate that delivers improved pressure stability within the turbocharger, Case says. These need a diesel particulate filter (DPF) as well as exhaust gas recirculation to meet Stage IIIA.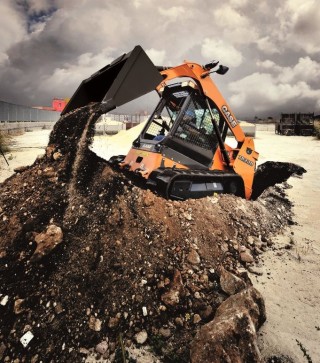 The extended Case line-up now includes five radial lift skid steers (SR), two radial lift tracked loaders (TR), two vertical lift skid steers (SV) and one vertical lift path tracked machine (TV). Operating weights range from 2,300kg to 3,765kg for the skid steers and from 3,720kg to 4,625kg for the tracked loaders. Operating capacities range from 590kg through to 1,723kg and tipping loads from 1,179kg to 3,447kg. Operating capacities on every model can be increased by adding extra counterweight on the back of the machine.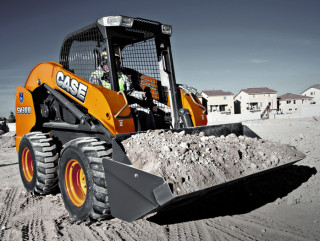 Skid steer loaders

SR130

SR160

SR175

SV185

SR200

SR250

SV300

Engine power

49 hp

60 hp

67 hp

60 hp

74 hp

90 hp

90 hp

Emission level

Stage IIIA

Stage IIIB

Stage IIIB

Stage IIIB

Stage IIIA

Stage IIIB

Stage IIIB

Operating capacity

(50% of tipping load)

590 kg

725 kg

790 kg

840 kg

905 kg

1135 kg

1360

Bucket breakout force

19 kN

23.4 kN

32.3 kN

24.7 kN

32.3 kN

33.3 kN

33.7

Max dump height

2246 mm

2246 mm

2470 mm

2377 mm

2495 mm

2558 mm

2615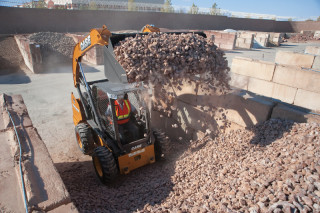 Compact Track Loaders

TR270

TR320

TV380

Engine power

74 hp

90 hp

90 hp

Emission level

Stage IIIA

Stage IIIB

Stage IIIB

Operating capacity

(50% of tipping load)

1225 kg

1451

1723 kg

Bucket breakout force

32.3 kN

38.7 kN

33.4

Max dump height

2495 mm

2602 mm

2669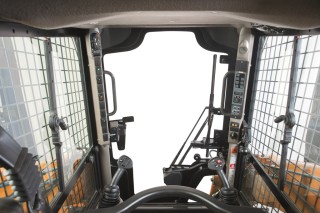 Got a story? Email news@theconstructionindex.co.uk