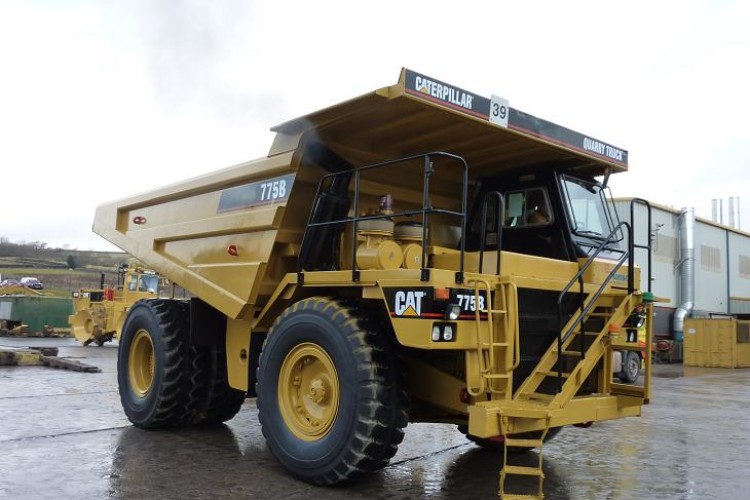 The Cat 775B has worked at a number of Hanson sites handling material from the quarry face, before spending the last 10,000 hours of its first life processing material in the stockyard at Hanson's Whatley Quarry in Somerset. 
Having being maintained by Finning throughout its life, customer account manager (CAM) Mark Hughes was able to accurately identify the timing and suitability of the machine for a rebuild: "By carrying out consistent repair before failure equipment management using our Equipment Management Tool (EMT) we were able to determine that a number of components were approaching before failure overhaul at the same time." 
"The EMT enables us to accurately monitor the condition of individual components in a unit and gauge the optimum time to overhaul them before they suffer failure. We do this by analysing data gathered from regular fluid sampling and thorough machine inspections. It's only when we have all this data that we can tell if a component is reaching the point that it needs to be repaired before it fails. If a number of components reach this point simultaneously, then following an inspection, we tend to recommend a rebuild."
Mark Hughes continues, "In the case of Hanson's Cat 775B, a lifetime of Finning maintenance, a sound chassis and overall excellent condition made it a good core unit to rebuild. It also made great business sense for Hanson to have this machine rebuilt as it costs approximately a third of the price of a new unit." 
Once the decision was made to rebuild the Cat 775B it was transported to our rebuild centre in Llantrisant, where it was washed down and thoroughly inspected before work began. The unit was then stripped down; the skip was removed along with the radiator, engine, torque converter, differential and bevel gear, final drive and brakes, rear axle, hydraulic cylinders and pumps. Mark Hughes comments, "Throughout this process we worked with the customer to identify additional components for overhaul to ensure trouble free operation post rebuild."
"As with any Finning or Cat Certified Rebuild the ethos is that when the machine is rebuilt the components are overhauled rather than simply replaced. Any component overhaul consists of a number of 'must replace' parts that are never reused, such as seals, gaskets and bearings, these are combined with a number of larger more expensive parts that are examined and compared to Caterpillar Reuse guidelines and reused if they make the grade. It is a good solid engineering process that ensures rebuilt parts will go the distance, and ensure maximum cost efficiency for the customer."
While the Cat 775B was being rebuilt in Llantrisant, Hanson were able to rely on the service support of Finning to keep its fleet operational. During the proposed 8-week rebuild Hanson was supplied with a loan truck that was able to fill the void left by the Cat 775B. This resulted in zero machine downtime for Hanson, Simon Grey Area Operations Manager for Mendip Sites at Hanson Aggregates comments on his experience working with Finning throughout the rebuild process; "For us the rebuild process itself was not just about taking away a vital piece of equipment and giving it a second life. What we had to do in order to allow this to happen was make sure we were able to continue to operate the site, whilst the machine was at the Finning depot. 
"It was here that Finning's customer account manager played an important role as they supported us throughout the pre-rebuild, rebuild and post rebuild process, carefully planning the timing and implementation of the job. This attention to detail made sure that we had no downtime in our process, whilst the machine was off site, so productivity levels were maintained."
Throughout the Cat Certified Powertrain Rebuild Plus (CPT Plus), which offers an optimum midway point between a full Cat Certified Rebuild and a Finning Rebuild with the option of additional repairs, the Cat 775B underwent a series of modernisation work to enhance reliability, performance and crucially safety as part of the standard rebuild service.  
Some 3,500 components later the Cat 775B was moving into the final stages of its rebuild, it was re-sprayed and new livery applied. In just 8 weeks Finning engineers had given the Cat 775B Lastability, injecting a second life back into the Hanson off highway truck.  Mark Hughes, " Although we have done other rebuilds for Hanson, this is the first certified we have done for them, and it has been incredibly successful, not just because of the excellent work carried out on the machine but also because of the levels of service we have maintained throughout. This has resulted in the Cat 775B being signed up to a full preventative maintenance contract since the rebuild."
Hanson's refreshed 775B arrived back at Whatley Quarry on the 18th February 2010 to continue where it left off as an integral part of Hanson's quarry operation. Simon Grey at Hanson Aggregates comments: "It is just like having a new machine. You would never know that it was the same unit that left the quarry a tired and well used truck. From a performance perspective it has come back into its old job with new vigour. The operator has also benefitted with a refurbished cab and seat. 
"When you compare the cost of replacement with the cost of rebuild, the difference is substantial and when you look at what you end up with, you have a machine that you already know is perfect for the task and that is guaranteed to perform. It's a simple choice when you weigh up the cost benefit.
Got a story? Email news@theconstructionindex.co.uk